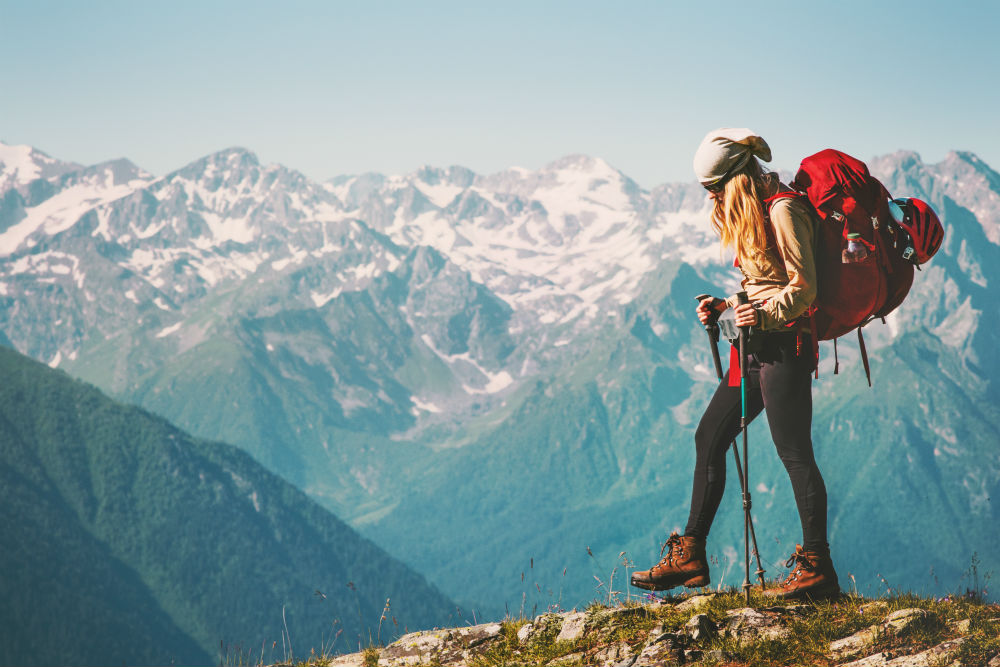 Hiking is a serious sport, and lots of people do it. So it's hardly surprising that there are also a lot of specialist accessories and outdoor clothes on the market. But what outdoor clothing do you really need, and what are you safe to leave hanging in the wardrobe—or even in the shop? pjuractive gives you the lowdown.
Why outdoor clothing and what should you be looking for?
With hiking, you are constantly being exposed to different conditions. While climbing a mountain can make you work up a sweat, it may be freezing again on the descent—which is why you need to be especially careful about what outdoor clothes you wear. You might have rain followed by bright sunshine just a short time later, all on the same hike. So when it comes to outdoor clothing, there's a lot you need to be prepared for. And when it comes to planning your outdoor clothes, it starts with your underwear.
Consider functional underwear
Yes, you read that right. Anyone who makes sure their outdoor clothing is functional and breathable but forgets to include their underwear risks losing the benefit of moisture being wicked away from the body quickly. Which is why you should get yourself some functional underwear. For low temperatures, you can go for the kind with long sleeves and legs, and if it's warmer go for boxer shorts, T-shirts, and tank tops. When it's warm, functional underwear is able to wick away any moisture from the body. In cold conditions, on the other hand, it can keep you nice and warm. Functional underwear is usually made from merino wool, polyester, or blended fabric. It should never be made of cotton. And you should make sure the seams are flat so they don't rub and cause discomfort.
Hiking socks
All good hiking boots also need breathable hiking socks to go with them. These are also usually made from merino wool or a blended fabric made from merino wool and artificial fibers. It's important to buy hiking socks that go with your hiking boots. If your boots have a low shaft, your hiking socks can come up a little shorter, too. If the shafts on your hiking boots are high, you need to make sure your socks are high enough too, as your hiking socks should always extend beyond the top of your boots. You also need to be particularly careful with the fit of your hiking socks. If your socks don't fit well, you run the risk of pressure spots and chafing.
The right choice for your upper body
You should wear a T-shirt over your functional underwear. This should be made of synthetic materials or merino wool. Because a simple T-shirt generally isn't adequate outdoor clothing for hiking, you should wear another shirt—men in particular tend to prefer shirts—or what is known as a hiking vest. You can then take this off if you get too warm at any point. A hiking vest also has the benefit of shielding your neck from the wind. If it's still too cold, you can wear a softshell jacket or a softshell vest with it as well. Not only can they wick away moisture from the body, but they are also water-repellent and will therefore provide protection if you're caught in a rain shower. However, if you know in advance that it's going to rain a lot on your hike, you should go for a hardshell jacket. That way you'll be protected even when there's a downpour!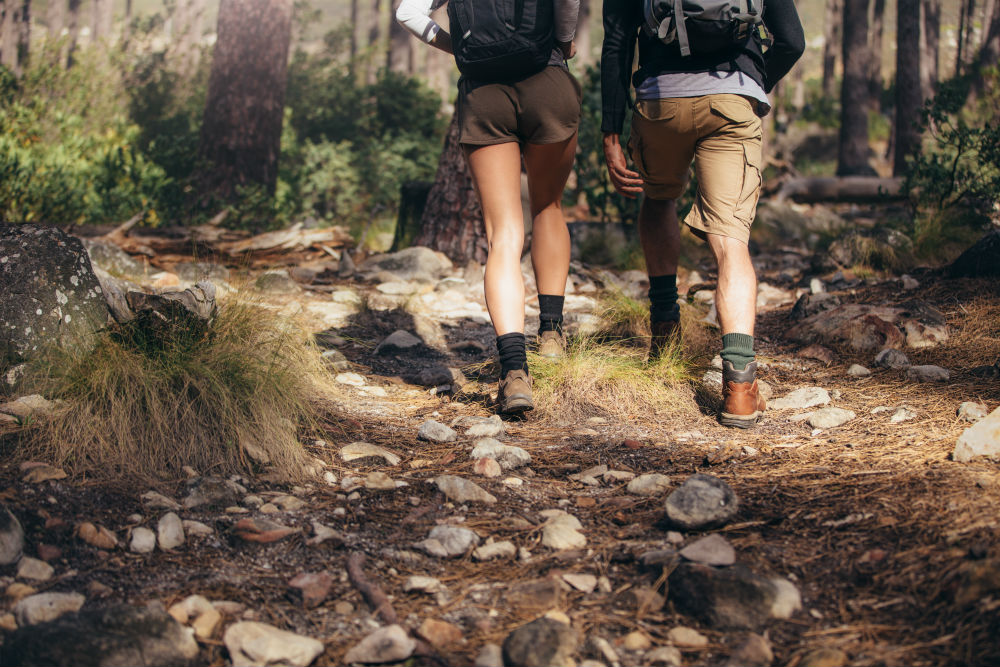 For hot and cold hiking—pants and shorts
Good hiking pants must have the following properties:
freedom of movement
good fit
hard-wearing
fast-drying
breathable
Good hiking pants can be made from a number of materials, including cotton, synthetic fibers, tencel, hemp, and elastane. Some of these materials produce pants that are particularly sturdy, while others are more flexible. It's important to choose your pants based on your particular needs. And you also need to decide whether you want hiking pants or hiking shorts. It's best to have a pair of each in your outdoor clothing collection—one for summer hikes and the other for cooler temperatures. You can also get so-called zip-off pants, however. These have detachable legs and are perfect for hiking in unpredictable weather conditions.
The right hiking boots
Hiking boots should not just be a casual purchase. It's especially important to find the right boots for your feet and for the hiking trips you've got planned. And it's not just the hiking trail you need to take into account here—you also need to bear in mind the climate, the length of the hike and what you'll be carrying. And when it comes to the boots themselves, you need to think about the shaft, the laces, the material, the sole, and how they fit your feet. We explain exactly how to find the right hiking boots for you in one of our previous articles: https://pjuractive.com/en/how-to-find-the-right-hiking-boots/
Other items of outdoor clothing you may need
If you've thought of all these things, you're basically ready to set off on your hike. Essentially, the only other thing you need then is a hiking backpack. Besides that, there are a few other little things that may also be helpful:
Hiking poles. Many hikers find it more comfortable to tackle the various hiking trails with hiking poles. If you are one of those people, then your hiking equipment should include hiking poles.
Water bottle. Plan the amount of drink you take based on the length of your hiking trail.
Headwear, such as a cap or a headband. Headbands are a particularly good idea in cold temperatures. A cap can be useful both as protection from the sun in summer and protection against the cold in winter.
Sunglasses. These protect your eyes from UV radiation.
Gloves. You need protection for your hands, especially when it's cold.
Scarf. This offers protection against all kinds of weather, especially for your neck and throat.
With all of that, you should be exceptionally well prepared when it comes to your outdoor clothing. We've put together some information for you in this article, looking at what else you need to think about when you're off on a hiking trip. You can also download a checklist here.
Have fun on your next hiking trip!