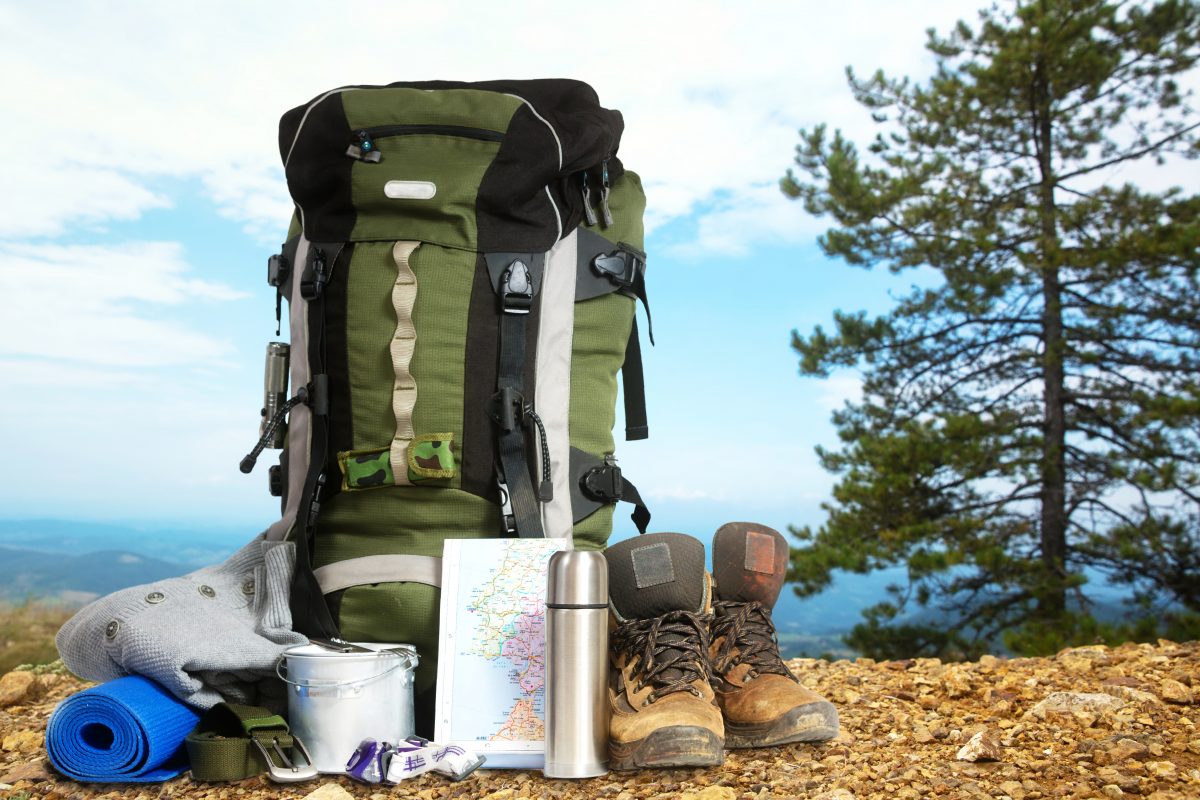 Anyone going for a hike will need a backpack to carry food supplies, water, a change of clothes and so on. But what should you look for when you're buying one, how many liters should it hold, and what's the best way to pack it once you get to that stage? In this article, pjuractive gives you a few tips to help you find the right hiking backpack for you.
What hiking backpack you should choose depends on…
…where you are going on your hike:
To make sure you're well equipped for your future hiking trips, you need to think about what kinds of hikes you want to go on. If a one-day hike is enough for you, your backpack obviously won't need to be as big as it would if you were planning to be away for several days. So-called daypacks are enough for one-day hikes. The longer you plan to be on the go, the more liters your backpack must be able to hold. Depending on what you need for your hiking trips, you should also consider having certain extra pockets. If you plan to take walking poles, your trekking backpack should also have straps for securing them, for example.
…how your new hiking backpack sits:
If your hiking backpack doesn't sit correctly, you won't be able to carry its weight over several kilometers without it causing pain and discomfort. The more weight you carry in your backpack, the more important it is to be aware of this. If you're only planning a few day hikes, taking very little with you in the way of food supplies, then a normal backpack with a short load-distribution system will be perfectly adequate. Even so, you should still make sure the straps are padded. If you need to take more than eleven pounds with you on your hike, then it's important to get yourself a hiking backpack with suitable load distribution. This includes a wide hip belt, which fastens around the pelvis. A belt like this ensures that the majority of the weight is supported on the hips instead of putting the load on the shoulders. The length of the back is another factor to bear in mind. Ideally, you should be able to tighten the shoulder straps with the hip belt fastened, and still have the weight carried on the hips rather than the shoulders. The back length of the trekking backpack, and whether it fits your back, is crucial for this. Hiking backpacks are usually divided into the following three categories for back length:
Short: 40 cm to 49 cm
Medium: 50 cm to 57 cm
Long: 58 cm to 69 cm
To be absolutely sure and to find out from the outset what length is right for you, you can always measure your back length beforehand.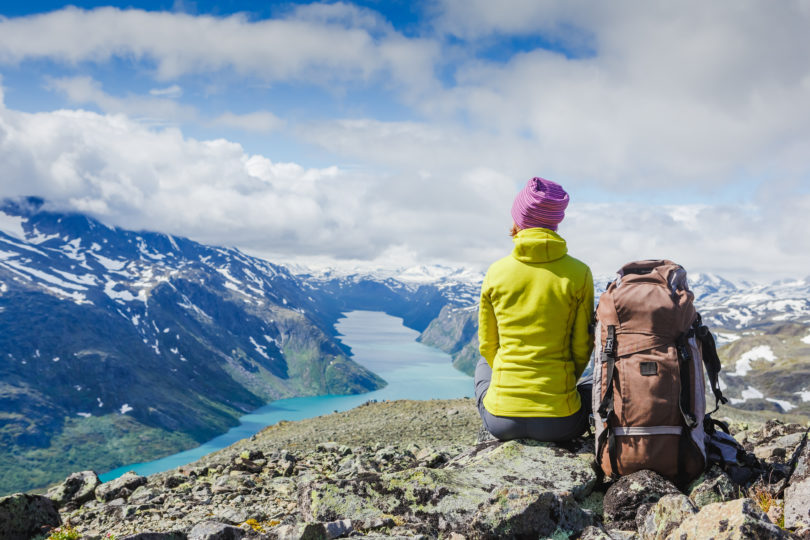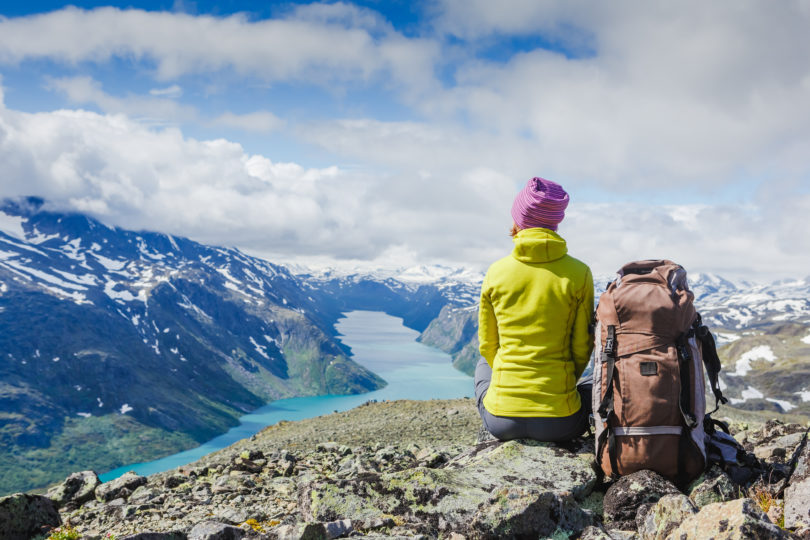 …how many liters you need your hiking backpack to hold:
This depends entirely on what your trekking backpack will be used for. If you only plan to use it for day trips, then a volume of up to 30 liters will be perfectly adequate. With a backpack like this, you should be able to fit in any food you need, a bottle of water, your hiking map, and if need be a raincoat too, without any problems. For hiking trips lasting several days, you'll need between 30 and 40 liters. Even so, this doesn't leave space for a sleeping bag, tent and the like. If you're planning to camp outdoors, you'll need a hiking backpack with a volume of between 50 and 60 liters. Some hiking backpacks have a floating lid, which can be extended upward to create more space. This is especially handy for anyone who is unsure exactly how much space they really need in their hiking backpack.
Generally speaking, your hiking backpack should always have a little more room than you need for what you plan to take with you. This protects the seams and zippers. On the other hand, having a smaller backpack naturally forces you to consider carefully exactly what you need to take—in other words, what is absolutely vital. This will obviously spare your back, too, which isn't the case if you take anything and everything just because there's extra space in your backpack.
…what pockets and compartments it has:
Many backpacks contain various compartments, allowing you to divide the contents between different sections. This usually includes an intermediate base in the bottom third of the trekking backpack. This can be used to store heavy items and the like that will only be needed occasionally on your hike. This makes it quicker to find what you're looking for and saves you having to rummage through everything in your backpack to find it. In addition, hiking backpacks usually also have side pockets or mesh pockets on the outside for storing things—such as pockets for water bottles, for example. You should also check that these pockets are laid out practically when buying a hiking backpack.
How to pack your hiking backpack properly
Once you've found the right hiking backpack, you can get to work packing. Experienced hikers know how to pack this kind of backpack properly to make sure they can always quickly get to the things they will regularly need. For those who don't have as much experience with this yet, here are a few tips:
Heavy items should go toward the bottom, light things nearer the top. This ensures the weight is concentrated correctly on the lower back and doesn't place any unnecessary strain on the shoulders.
Anything you won't need before you reach your overnight accommodation or until a later stage in your hiking trip should be placed right down in the bottom of your backpack.
Think about what things you might need while you are hiking. Put these where you can get to them quickly. You should always have the hiking map handy, for example.
If you are able to stow a water bottle on the outside of your hiking backpack, don't carry one big bottle on one side. Instead, split it between two smaller bottles and carry one on each side. This will help you keep the weight balanced to some degree.
Most hiking backpacks are made from waterproof material. Yet the zippers and seams are often not sealed, which is why it's always a good idea to use a dry bag as well—especially if you're not sure whether or not the weather will change. Dry bags simply keep your equipment safe inside the backpack so that water can't get in under any circumstances.
Once you have your hiking backpack packed you can get on with your next hike. Wishing you lots of fun from the team here at pjuractive!