Do you suffer from friction or chafing on your body?
We've all experienced this problem either at work, in day-to-day life or in our free time: Sometimes our passion, will, ambition or just the strain we put ourselves under is stronger than our skin. This can lead to open wounds and extremely irritating pain that can stop us from feeling good, having fun and achieving our goals.
Stop the pain before it starts. Apply our products beforehand and stop pain in its tracks! Simply apply to the areas you want to protect and you're done. The product immediately creates a strong, invisible protective film that lasts an extremely long time and allows your skin to breathe.
The protective film prevents rubbing. pjuractive products eliminate any risk of chafing, whether from clothing, shoes or your own skin – making open wounds and blister plasters a thing of the past.
The benefits
compared with blister plasters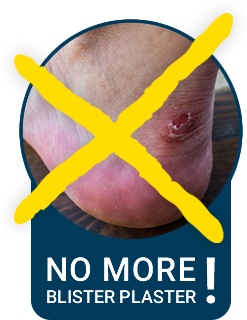 That's easy to answer: Our products eliminate pain and save you money!
Many people simply accept blisters and chafing as part of life and use blister plasters to treat these open and very painful wounds. Usually, the results aren't ideal. Blister plasters are visible and they are not water or sweat resistant. This causes them to peel off and become a new source of friction and skin damage.
Blister plasters are also expensive. Our products cost less than EUR 0.01 per application (2 x 2 cm). A blister plaster costs around 80 times more on average.
It doesn't have to be this way. pjuractive can solve this problem using nurturing additives such as vitamin E and argan oil.
Outstanding skin compatibility and quality are at the heart of everything we do. This is our promise to you!
All of our products are subject to numerous quality tests – these are carried out internally, externally and by different organizations. And we think we have an excellent track record here. Test our products and see for yourself.
Breathable
Does not clog pores
Resistant & ultra long lasting
Water & sweat resistant
Safe for wetsuits and multifunctional clothing
Dermatologically tested
Easy & precise application
Ideal for hot & cold conditions
Protects without disturbing
For all body regions
Perfect for on the go
Different product sizes
Can I use pjuractive on any part of my body?
Yes. Our products can be used on any part of the body where you experience chafing or sore areas of skin. We have special products for everyday activities, leisure time and even for extreme athletes.
How quickly do the products take effect?
The products do not need any time to dry. The protective film forms as soon as you apply them and you can immediately put on your shoes and/or clothes.
Does continuous silicone use damage the skin? Can any side-effects occur?
When developing 2SKIN , pjuractive devoted a great deal of attention to optimum skin friendliness. The ingredients used are of carefully selected quality and purity and have undergone numerous tests during product development. 2SKIN is dermatologically tested and certified. As a result, we are not aware of any side-effects.
What is pjuractive?
The gel is primarily made up of medical silicone. This is completely harmless and means that both mySKIN and 2SKIN can be manufactured without any preservatives. Silicone remains on the surface of the skin. It is not absorbed by the body and allows the skin to breathe. As a result, the protective film remains on your skin even if you sweat or get wet.
"I received a heart transplant in 2012 and have already successfully completed three IRONMAN competitions with my new heart as well as the CAPE Epic in South Africa and the Transalpine Run. I have a lot of scars on my upper body from many operations. In the past, my chest strap always chafed severely against these areas. 2SKIN has completely eliminated this problem for me, leaving me free to focus on new challenges."
"mySKIN has made me fall back in love with high heels! Every pair of high heels I owned used to rub somewhere, causing blisters and bruising. I almost gave up wearing them entirely. mySKIN has changed all of that. I love my shoes and would leave them on all day if I could!"
"I am currently running from the North to the South Pole and have been completely blown away by 2SKIN. The wax and tallow I used to use freezes at -30°C and clumps together really badly. 2SKIN stays at exactly the right consistency, making it the perfect product for my run!"
"I always used to suffer from chafing on my thighs, especially in summer. I tried everything, including Vaseline and powder. Nothing helped. Now, thanks to mySKIN, I can wear skirts again at long last and look forward to warm weather in the summer because it's even resistant to sweat and water ;)"
Everyone knows how important the right diet is for sport. …
The food world is constantly evolving. It sometimes seems like …