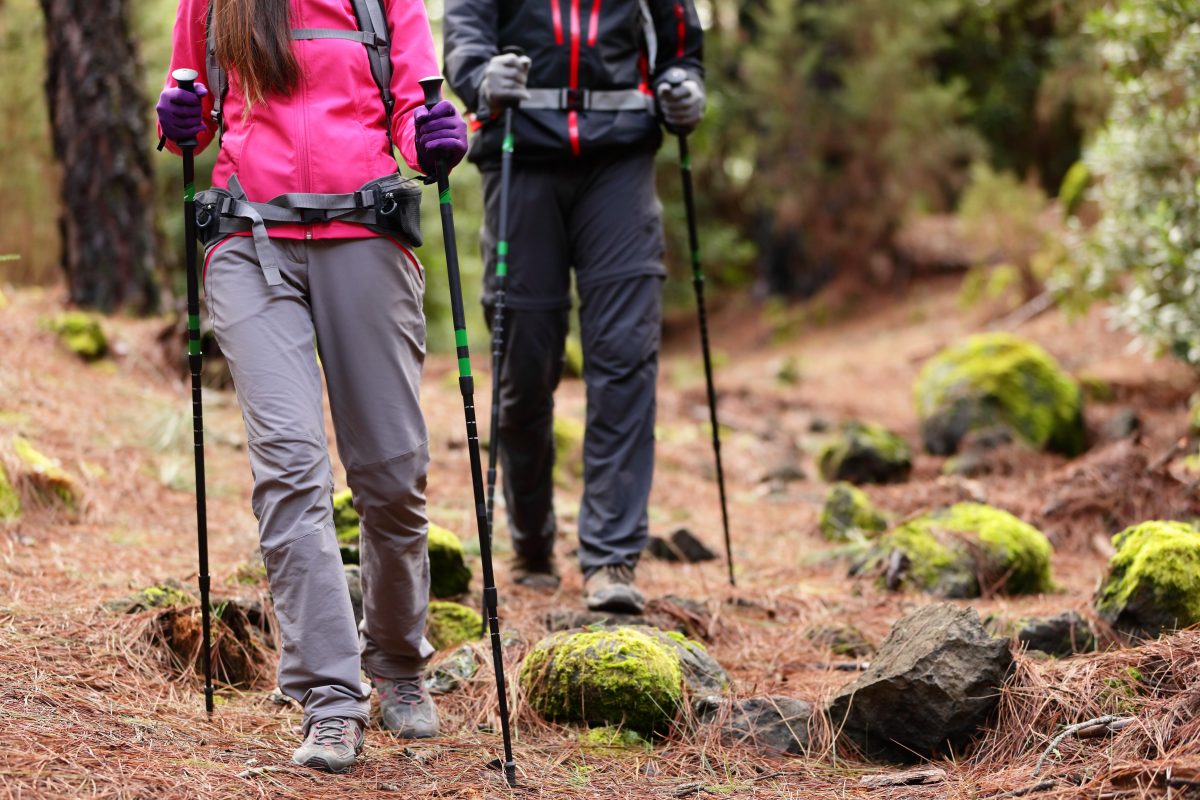 Anyone who hasn't done much hiking before will quickly forget important things when it's time to set off. This includes information about the route, as well as a first-aid kit and local emergency numbers. But what else do you need to think about? Obviously, it will always depend on how long you want your hike to be and where you plan to go, too. We've had a think and come up with a list of essential items you'll need for different hikes.
What hiking clothes do you need?
Besides hiking boots – which anyone who is serious about wanting to go hiking should get hold of – there are a few other items of clothing that you should never be without on a hike. These include:
Raincoat/waterproof jacket. Hikers are at the mercy of the elements. After all, you can't just turn around when it starts to rain. And even if it's just a bit drizzly, it's still a good idea to have a raincoat as it can stop the rest of your hiking clothes getting wet straight away, too.
Hiking socks. Hiking boots need hiking socks. These are usually made from functional fibers so that they not only dry faster, but also transport moisture away from the feet.
Headgear. It's important to protect yourself from the sun at all times. That's why, as well as wearing sunscreen, it's important to remember to keep your head covered, too.
Hiking pants and a hiking shirt can be worthwhile for particularly long hikes. Not only do they dry more quickly, but hiking pants usually also have removable leg sections, which can be very useful when it starts getting a little warmer.
Checklist for day hikes
Besides the hiking clothes above, if you're planning a day hike it's also important to think about the following:
Hiking maps/route planners. Although most hiking trails are signposted, you should still have a map or a route planner with you, too. That way, you're guaranteed to be able to find your way and arrive at your destination.
Pocket knife. Anyone who has ever been out and about in the great outdoors will know how useful one of these can be.
Something to drink. One liter of water per person should be enough. You should always bear in mind that the more drinks you take with you, the more you'll have to carry the entire way.
Food supplies. Whether you make yourself a sandwich or take some fruit – a banana, for example – with you, you should always remember to take something to eat. You won't usually be able to buy anything to eat while you're on your hike. Glucose tablets are always useful to have, too, and they don't take up much space in your hiking backpack.
First-aid kit. This should definitely include plasters and bandages. Your first-aid kit should also contain compresses, gloves and a space blanket.
Bag(s). Whether it's for collecting mushrooms or berries, for example, or for taking your trash away with you instead of leaving it to litter the countryside.
2SKIN. Walk just a few meters and you'll notice that your hiking boots pinch – especially if they're new – and that your skin rubs against your hiking clothes, or even skin against skin. This leads to chafing, which can cause blisters and is why you should use 2SKIN from pjur beforehand. Its innovative formula protects against chafing and blisters. Simply apply to any problem areas – such as the feet, upper arms, nipples, chest, thighs, etc. – before you set off to protect against chafing and blisters. In a practical 20-ml pump bottle, our 2SKIN anti-chafing gel takes up hardly any room in your hiking backpack, too.
Handkerchiefs. Especially important and extremely versatile.
Suncream/sunblock. When you're hiking, you're exposed to the sun's rays all day long. That's why it's important to protect yourself – both before you set off and during your hike.
Tick/insect repellent. As soon as the weather starts warming up again in spring, we need to start protecting ourselves again: ticks. As a result, it's particularly important to use a tick and insect repellent when you're hiking.
Hiking backpack. How else are you going to carry everything on the list? 😉
These are the things you should always remember. Of course, you can also take a camera for taking beautiful photos or a walking stick to help you on the hike, though these aren't essential items.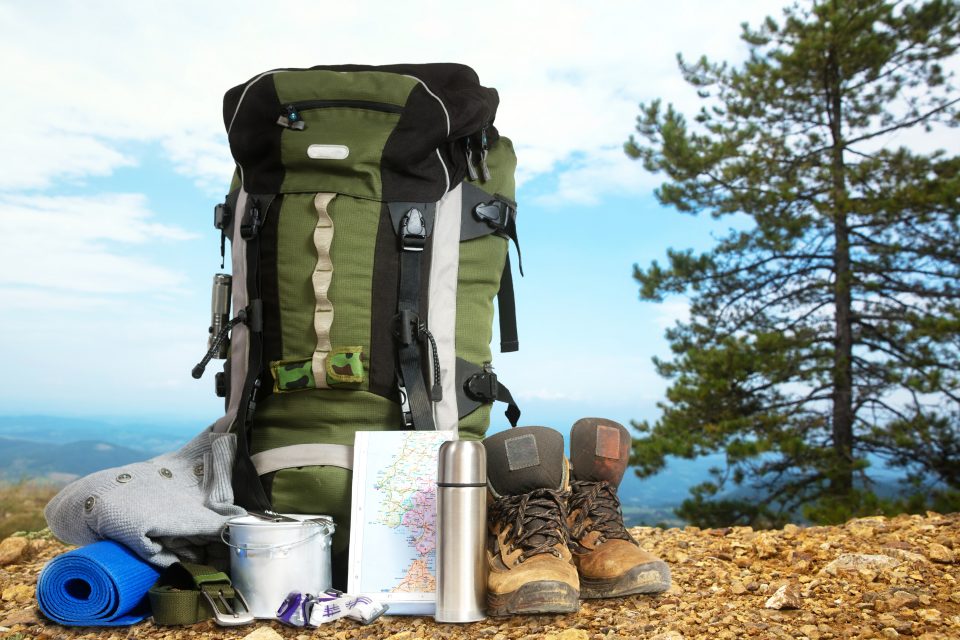 Checklist for hikes lasting several days
If you plan to be on the go for several days, it's important to think not just about the hike itself but also about your sleeping arrangements. If you'd prefer to spend the night outdoors rather than rent accommodation, then you need to remember to take a tent, a camping mat and a sleeping bag. Generally speaking, of course, there's much more to think about when you're preparing for a hike lasting several days than for a hike that only takes a day. Here are a few things to remember:
Change of clothes. You'll need to pack enough changes of clothes, depending on how long your hike will take. You should always take at least three outfits, however. Even if it's just a two-day hike, it can be worth packing a little extra.
Second pair of shoes. Preferably a lightweight pair of shoes that you can wear in the evenings, after the hike.
Towel/soap and toothbrush/toothpaste. For everyday hygiene.
Tent. If you're planning to spend the night in the open, you need a tent. You should always choose one that's the right size for the number of people you're hiking with. And a word of caution when it comes to conservation areas, wildlife reserves and water protection areas: you can't just pitch a tent wherever you like. It's best to do your homework in advance and find out whether camping is permitted where you're planning to go for your hike. The laws on this can vary from state to state and country to country.
Camping mat. Most people find just sleeping on the floor of the tent is simply too uncomfortable. A camping mat can help with this.
Sleeping bag. You will need one sleeping bag per person so you don't get too cold in the night.
Food. If you want to stay in the great outdoors all the time, you'll need to stock up with food for the hike. It's important to think about how long you'll be on the go and how many people you need to calculate provisions for.
Plates. Lightweight camping dishes are recommended for this.
Cutlery. Preferably plastic; specialist camping cutlery is available.
Cups. It's best to go for plastic or aluminum cups, too.
Dishcloth/dishtowel. So you can wash up your utensils and cutlery.
Bags. Whether it's for keeping our dirty washing together or taking your trash away with you.
Travel medicine kit. This should include medication for diarrhea and headaches. And of course, if you take any regular medication, you should remember to include that as well.
Lighter. Or you can take matches instead – just make sure they're waterproof matches.
Camping stove. A camping stove can be useful, depending on what you want to eat.
Torch. So you can see where you're going at night, too.
Cash. Even if you're actually planning to retreat from civilization completely on your hike, it's always a good idea to have some cash on you.
Passport. If you're planning a hike that takes you across international borders, you need to remember your passport. This can be useful for identifying yourself wherever you are – even if you're not crossing borders.
To make sure you're kitted out for your next hike, we've put together a checklist for you to download so that you have everything you need for next time – no matter how far you want your hike to take you. Simply download the checklist here:
Essential kit for your hike – Checklist
Happy hiking from the team at pjuractive!