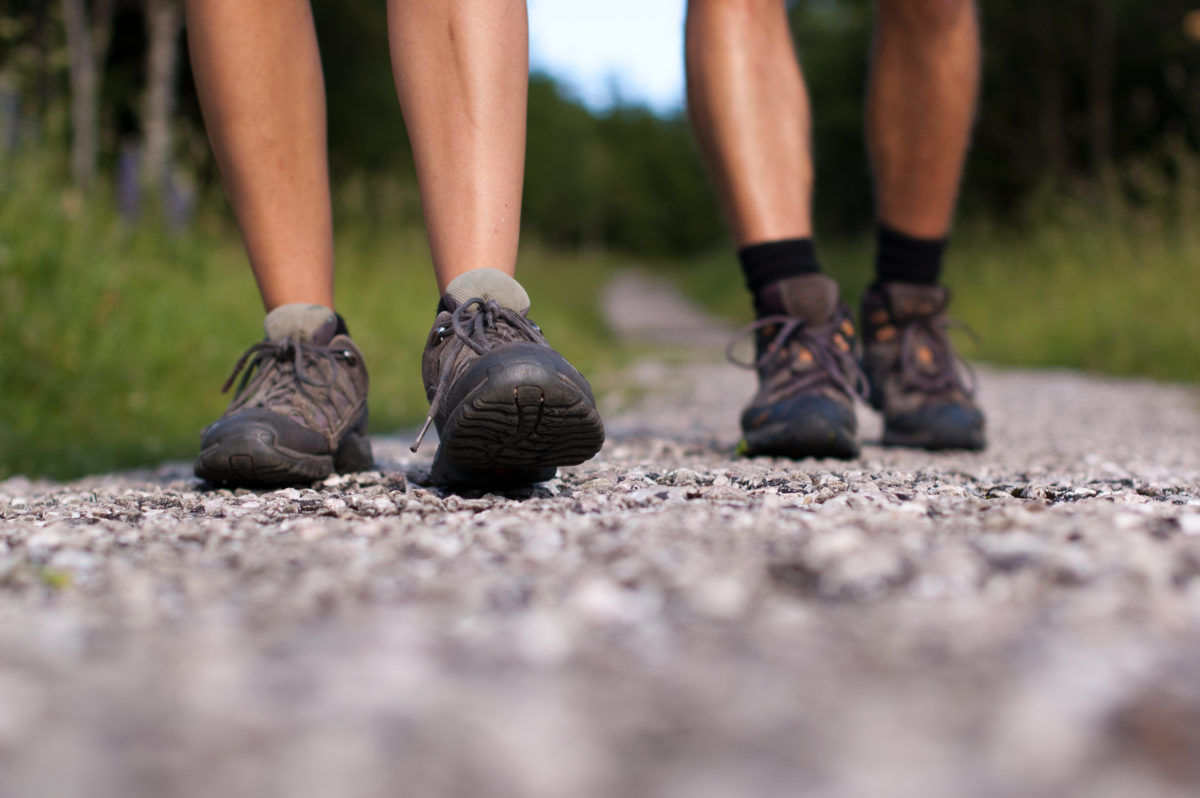 As the days start to get warm again, hiking season also begins. Countless people are drawn out into the fresh air and onto the best-loved paths and trails. If you would like to join the legions of people taking up hiking, there are a few points to bear in mind – hiking is a sport to be taken seriously. In this article, we reveal what it's all about.
Take it easy at the start
Long hiking trails and bulky bags should be avoided at the start. Just like other types of endurance sports, it's a good idea to let your body get used to the physical demands slowly. At the beginning, the hiking routes you choose should not be longer than ten to fifteen kilometers. You should also make sure you choose relatively flat terrain. This ensures the demands placed on the body are not too high. At the beginning it is also worth being aware of what walking pace and breathing rhythm feels comfortable—and trying to stick to it.
Hiking equipment
Although you don't need much equipment for hiking, there are still a few things you should get hold of before you start. First on the list is a pair of hiking boots and hiking socks. Heading out for a hike in normal sneakers is not advised as they don't offer any support for the ankles. So a well-fitting pair of hiking boots is indispensable. Hiking socks are also worth having. Not only are they thicker than normal socks, they also keep your feet properly warm. Another advantage of hiking socks is that they are breathable and dry faster than normal socks. On long walks, it's also a good idea to take some provisions with you. But how to transport them? That's why you should also buy a hiking backpack. There are also a number of things to bear in mind when choosing your backpack—but we'll look at that in more detail in another article.
Choosing a hiking trail
The route you choose for your hike is also crucial. There are plenty of hikes that are suitable for beginners and others that should only be attempted by seasoned hikers. When you're looking into hiking trails, you will find they are often given a difficulty rating. It's best to pay attention to these ratings. As already mentioned, your hiking trail shouldn't be too long at the beginning. Roughly ten kilometers would be a good starting point. However, if at some point you find you've overreached yourself with the route you've chosen, there's nothing wrong with turning around. Quite the opposite—it's essential that you do. After all, you don't want to lose your appetite for hiking on your very first hike, do you? And it's not just the length that's important—it's vital to plan your route, too. Most hiking trails are signposted, helping you find the right way. Even so, you should also consider having a map and a route planner. If you're still unsure about hiking at the beginning, you could find a guide to accompany you on your first hike. It may well make hiking a little easier for you at the beginning.
Other important hiking tips
There are reasons behind the hiking trails that are chosen, so you shouldn't decide to leave the path and take what you think will be a short cut. It's more likely to result in you getting lost or even injured on paths that are anything but proper hiking paths.
Hikers should leave the countryside exactly as they find it. That means no littering and no polluting the natural environment in any other way.
Even if you stick to the specified hiking route, there is always the potential for an accident, which is why it's important to carry some basic first aid equipment. This includes plasters and bandages, as well as a space blanket to prevent an injured person from developing hypothermia while you wait for help to arrive. If a situation does arise where first aid is needed, it's important to stay calm and not panic. It's also important to know the local emergency telephone number in case of an emergency. You should always make sure you have this information before setting off on your hike.
The uninitiated usually don't think about wearing sunscreen when they set off on a hike. Most people think they'll be in a forest, so they won't need to protect themselves from the sun. On the contrary: you are out in the open air, and sun protection is always important when you're outdoors. And don't just apply some before you head out—it's important to reapply it during your hike.
Anyone with a new pair of hiking boots in particular will probably start to feel it, even after just a few kilometers: they chafe and pinch and before you've even made a mistake, you find you've got a blister—or several. And it's not just the boots. Hikers also find the straps of their backpacks can chafe. Many hikers manage this problem with deer tallow or similar creams. But pjuractive has a better solution: 2SKIN. The gel, which protects against chafing and blisters, forms an invisible, protective film on your skin immediately after application, reinforcing the cell structure and distributing pressure over larger areas. Unlike conventional creams and sticks, it allows your skin to breathe too! 2SKIN is dermatologically tested and is both waterproof and sweat-resistant.
Not only is hiking a good way to stay fit, but it also allows you to see beautiful scenery and enjoy nature. Yet it isn't a good idea to just set out on a hike. It's important to get hold of some hiking boots, hiking socks and a hiking backpack and to choose the right hiking trail. In our next article, we reveal the essential points to look out for in a good hiking route.