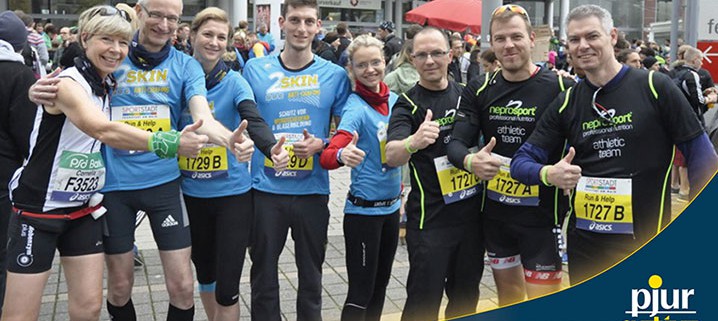 [av_dropcap1]W[/av_dropcap1]asserbillig/Luxembourg, OCTOBER 2015. After 27 years, the German record has finally been smashed. Arne Gabius beat the record and came fourth in the Frankfurt Marathon with a time of 2:08:33. Lisa Hahner became German champion, coming sixth among the women with a time of 2:28:39, which was the first time in her career that she had come in below the 2:30 mark. The Frankfurt Marathon once again proved why, as an IAAF Gold Label race, it is one of the most highly regarded road races in the world.
The more than 25,000 participants also received samples of pjuractive 2SKIN gels in their starter bags to protect them from blisters and chafing. Sebastian Apfelbacher, for example, was more than happy: "Thanks to 2SKIN from pjuractive, I was well protected from blisters and chafing on my feet. This time I was not trying to achieve a new best time, but instead aimed to keep pace with a running partner to achieve her target time of 2h 45 min. I was able to enjoy the marathon through 'Mainhattan' in a relaxed way, in ideal weather conditions."
As well as the samples in the starter bags, pjuractive sponsored a campaign that is especially close to the team's heart: The charity running project Run & Help aims to raise money for Doctors without Borders. "The coming together of people who have athletic ambitions, who want to combine their passion for sport with social engagement and a sponsor that not only developed a unique product, but also supports projects like this, is something really special for me. Many thanks to pjuractive and the entire team," says Cornelia Hika, organiser of Run & Help.
The four runners from the Run & Help team took off in pjuractive shirts, and were able to achieve the sensational result of 3:27:57 thanks to the gel. "As an ambitious runner, 2SKIN is an absolute must-have for all of my races. My successful participation in the Frankfurt Marathon proved once again that chest strap chafing and blisters are a thing of the past."