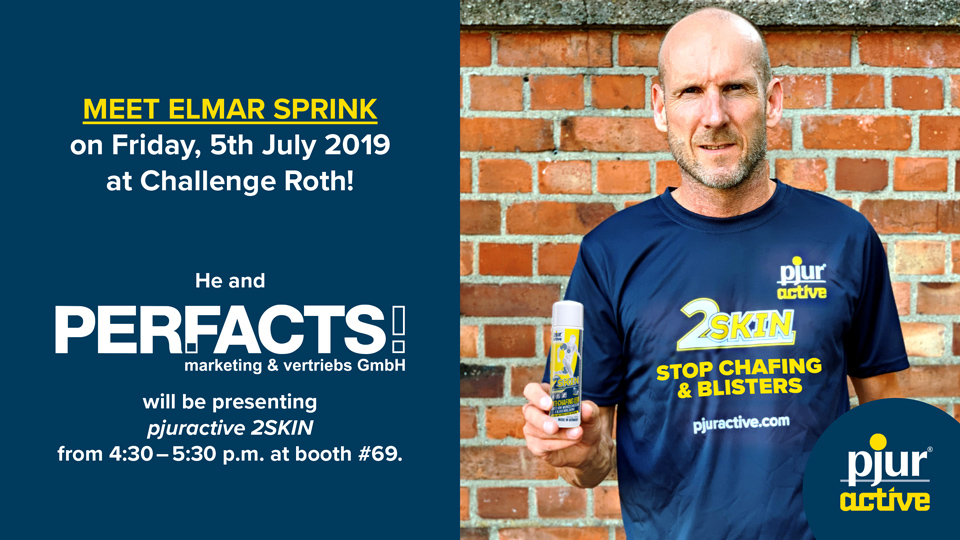 Wasserbillig/Luxembourg, JULY 2019. Challenge Roth, the world's largest long-distance triathlon competition, will be taking place for the 36th time on July 7 2019. This year, pjuractive brand ambassador Elmar Sprink will be taking to the starting line. In addition to this, our sales partner PERFACTS! will be presenting pjuractive 2SKIN at the blueseventy booth during the Challenge Roth Expo, which is held from July 3-8 2019.
So what could be more appropriate than bringing our two partners together? That's why, at 4:30 p.m. on Friday, July 5 2019, Elmar Sprink will be spending time with PERFACTS! at booth number 69, where he will be on hand to provide visiting athletes with more information about the anti-blister gel 2SKIN. This is the perfect opportunity for anyone looking to get some advice from Elmar Sprink and to find out how exactly he uses our 2SKIN gel during training to achieve the best results. It's also a great way for anyone who's not sure if 2SKIN is the right product for them to find out more information.
"2SKIN really helps me, which is why I'm looking forward to talking about the product with other athletes at Challenge Roth. I hope we get a lot of visitors. No one has to suffer with chafed skin or blisters any more thanks to pjuractive 2SKIN," explains Elmar Sprink.
"We're looking forward to seeing Elmar Sprink. He's been using pjuractive 2SKIN for a long time now and knows exactly what benefits athletes can gain from this anti-blister gel. We hope to see a lot of interested visitors at our booth (number 69) at the Challenge Roth Expo," adds Martin Ihnow, Managing Director of PERFACTS!.
About Elmar Sprink
Elmar Sprink is considered to be the fittest heart transplant recipient in the world. After receiving a new heart in 2012, he is now competing in competitions again and has finished multiple Ironman events. He is passionate about organ donation and supports the German Organ Transplant Association (DSO). He has been a brand ambassador for pjuractive for several years now.
About PERFACTS!
PERFACTS! GmbH has been a sales partner to pjuractive since February 2019. PERFACTS! is an owner-managed company. For more than 20 years, the company has been working with sports retailers, sports associations and major customers to create tailored products and own-brand ranges. PERFACTS! works with over 500 listed German and European retailers and a host of major customers, offering them a tailor-made, all-round service with made-to-measure products and services.
Press Contact:
pjur group Luxembourg S.A.
Vanessa Melchisedech
PR & Communications Coordinator
+352 74 89 89 – 49
vanessa@pjuractive.com