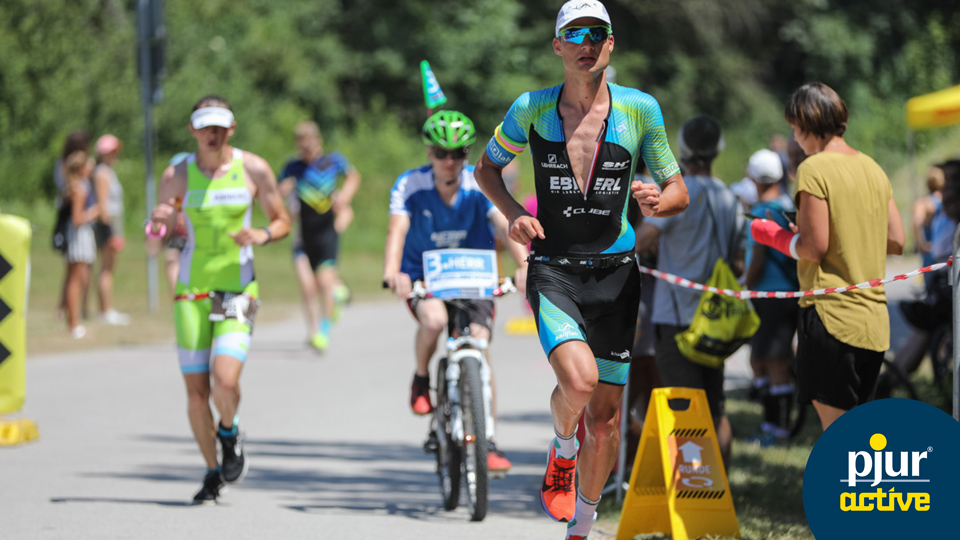 Wasserbillig/Luxembourg, JULY 2019. The EBERL Chiemsee Triathlon took place for the eighth time on June 29 and 30, 2019. This year, Julian Erhardt took to the starting line for pjuractive and came in third position in the middle distance on Sunday.
The event started on the eastern shore of the largest lake in Bavaria in the town of Chieming. On the bike, the course took athletes through the Chiemgau region while the run followed the shore of Lake Chiemsee towards the finish line. Only two other athletes came in ahead of Julian Erhardt in the middle distance triathlon (2 km swim, 80 km bike ride, 20 km run): Thomas Steger, who secured first place and Michael Raelert, who came in second. Julian is more than happy with his performance: "The weekend was amazing, and I was able to dig deep and call on all of my reserves. I did it, despite the high temperatures and am proud to be standing on the podium with my fellow competitors. I'd like to thank pjuractive again for their support. pjuractive 2SKIN helps me cross the finish line in every competition without blisters or chafed skin."
You can find out exactly how Julian Erhardt fared in the Chiemsee Triathlon in our blog: https://pjuractive.com/en/blog/chiemsee-triathlon-live-report-by-pjuractive-brand-ambassador-julian-erhardt/
About Julian Erhardt
The triathlete from Chiemsee is a member of the Triathlon Grassau Team. His favourite triathlon formats are the Olympic distance (non-draft) and middle distance. He is currently training in the Bavarian Alps on the shores of Lake Chiemsee. Julian's previous successes include being crowned the overall winner of the 2018 BASF Rhine-Neckar Triathlon Cup and securing the title of German champion over the Olympic distance (non-draft) in 2018 in Viernheim. Julian Erhardt joined the pjuractive brand ambassador team at the start of the year. You can find out more about him in our blog: https://pjuractive.com/en/blog/julian-erhardt-ambitious-triathlon-talent/
Press contact:
pjur group Luxembourg S.A.
Vanessa Melchisedech
PR & Communications Coordinator
+352 74 89 89 – 49
vanessa@pjuractive.com