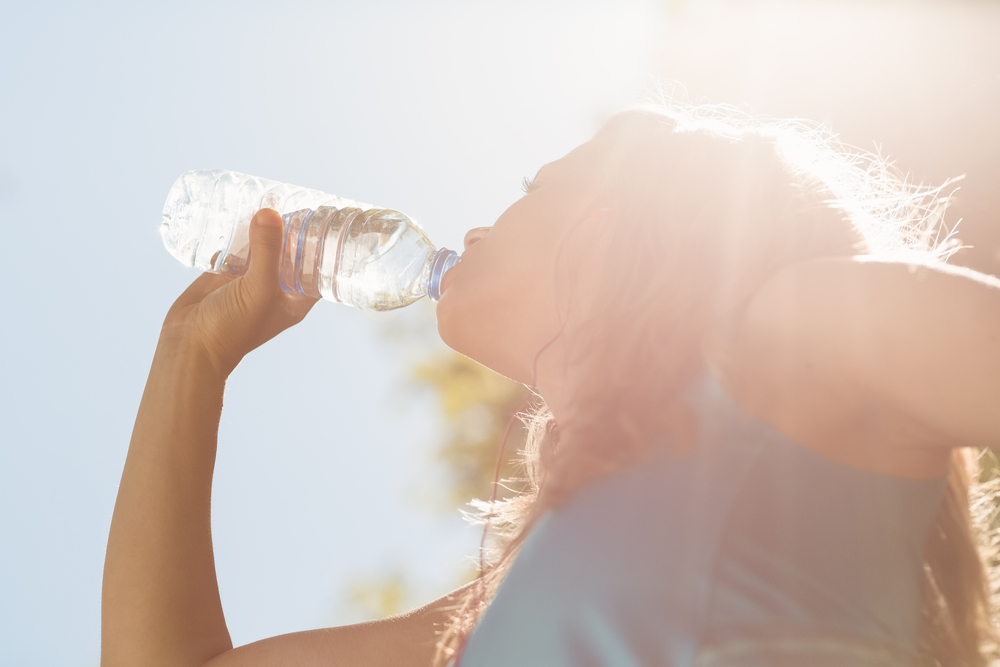 June 21 marks the start of summer. That usually means great weather and long days – ideal conditions for runners. But when the sun is shining high in the sky and temperatures are steadily on the rise, many runners think twice about whether or not they should set off for a run. If you don't want to let your training lapse because of hot summer temperatures, then you should keep the following tips in mind.
Number 1: Choose the right time for your run!
It's generally not a very good idea to go for a run in the midday sun. For many runners – even those who are well-trained – circulation isn't at its best in very high temperatures. Try to run early in the morning, when the cool of the night is still lingering or in the evening, when it has become a little cooler.
Number 2: Choose the right route!
Roads covered in black asphalt start to bake in strong sunlight and actually give off heat. It's better to run on unpaved roads, such as in fields or on forest paths. This not only has the advantage of the ground giving off less heat, but also the trees might provide you with some additional shade.
Number 3: Wear the right clothes!
In this case, less is not always more. Clothes play an important role for runners: specially designed functional wear has a cooling effect and helps transport perspiration away from the body. So instead of running with fewer clothes on, run with the right clothes on!
Number 4: Protect your head!
Providing protection for your head from the hot summer sun is a good idea when running. Yet a lot of runners seem to forget this aspect. Wearing decent headgear such as a cap not only protects you from the sun, but also provides shade. You should also make sure that your headgear is breathable. It is also a good idea to choose headgear in a light color, as lighter colors absorb much less sunlight than darker colors.
Our insiders' tip: Dampen your cap before setting off, as well as during the run if possible. This will help you stay nice and cool.
Number 5: Protect your skin from the sun
In addition to head protection, runners also need to pay attention to their skin. The presence of perspiration strengthens the effects of the sun. Putting on sunscreen is essential. You should apply sunscreen 20 to 30 minutes before you set off on your run. This allows time for the skin to absorb the sunscreen, making it as effective as possible. In order to prevent sunscreen from washing away with perspiration, you should always opt for a water-resistant product.
Number 6: Monitor your pulse
When it's really hot outside, your body needs additional energy to maintain its natural cooling abilities. But this energy is in short supply when running on hot summer days, you will not be able to achieve your usual performance levels. It is important that you don't push yourself to hard in these conditions. Monitor your pulse to make sure that you're not putting your body under too much strain.
Number 7: Cool down before and after the run!
Cooling down after the run is the best way to end a training session, but why not start your run with a cool shower as a kind of preventative cool down? One way or the other, you'll start your training session with a cool head 😉
Number 8: Protect yourself from chafing!
Chafing and blistering can occur more frequently in the summertime when you tend to perspire more. It is important to protect yourself from this.
Here's another insiders' tip we have for you: Our innovative pjuractive 2SKIN prevents chafing and blisters and is water- and sweat resistant. Try it out for yourself.
Number 9: Eat regular meals in the summer!
Many people don't feel hungry during the long, hot days of summer. It is still important to eat regular meals and to choose healthy options, even in hot temperatures. Your body needs these energy reserves, especially when you have a challenging run ahead of you. It can be helpful to adapt your own eating habits to the changing circumstances. Eat smaller portions more regularly throughout the day and choose light meals like salads, vegetables, fruit, lean meat or fish.
Number 10: Last but not least: drink plenty of water
Drink, drink and then drink some more: when the body loses so much fluid as a result of high temperatures, it becomes especially important to replenish this lost fluid. Turn to mineral water or juice spritzers to help you achieve your maximum performance. Drinking about 250 ml of fluids shortly before exercising is ideal for preventing dehydration. If you feel thirsty, it is actually already too late. Drink regularly and not only when your body tells you to.
And there is nothing wrong with reducing the amount you train during the summer. Experts generally recommend reducing your training in high summer temperatures by around 30 to 50% per week compared to your normal training levels. Train the way that works best for you and keep running with a cool head all summer long!
Do you have any additional tips for our community on how to keep cool during summer? Tell us about them and win a voucher for our online shop.