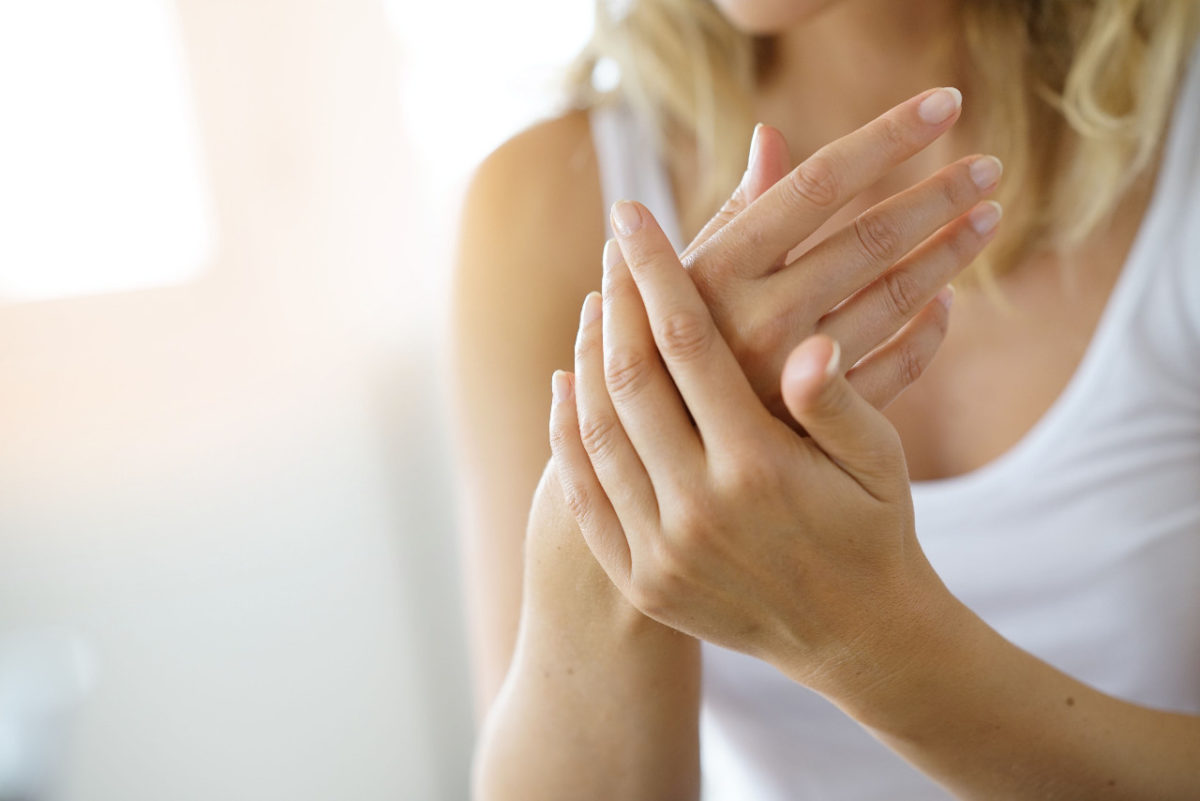 Disinfection is a topic we should all be thinking about at the moment. After all, hygienic disinfection is essential if we are to keep the coronavirus at bay. So we wanted to give you a little more information on this and show you how to disinfect your hands properly – and we even have a new product for you. Find out about it all in this blog article.
Disinfection – what is it?
Disinfection aids hygiene. It kills and inactivates pathogens, bacteria, germs, and viruses. The aim is to contain the spread of diseases or infections by means of appropriate disinfection. This is precisely what is needed with the coronavirus, which is why this is currently such an important topic. In addition to our skin and hands, surfaces, objects, medical instruments, and even food are also disinfected. We also disinfect wounds to prevent inflammation. A disinfectant is usually used to do this. In some cases, however, heat, cold, or radiation also help to kill pathogens, bacteria, germs, or viruses.
The effects of disinfectant
When we talk about sanitizers for our hands and skin, these are considered to be biocidal products. To be precise, they are chemical substances that are intended to kill or inactivate microorganisms found on our hands and our skin generally. They do this by destroying the structure of the microorganisms, which is made up of proteins. Disinfectants are grouped according to the following modes of action:
| | |
| --- | --- |
| Bactericidal | effective against bacteria |
| Levurocidal | effective against yeast |
| Fungicidal | effective against fungi |
| Sporicidal | effective against bacterial spores |
| Virucidal against enveloped viruses | effective against enveloped viruses only |
| Virucidal with limited activity | effective against enveloped viruses and non-enveloped adeno-, noro- and rotaviruses |
| Virucidal with full activity | effective against all non-enveloped and enveloped viruses |
How to disinfect your hands and skin properly
It is estimated that around 80% of all infections are transmitted through our hands. That's why it's particularly important at the moment to observe proper hand hygiene. When it comes to disinfecting our hands, a distinction is drawn between two different types:
Surgical hand disinfection: This involves destroying as far as possible both germs that are foreign to the skin and germs that are part of the skin's natural flora. However, this is only necessary for operations, for example.
Hygienic hand disinfection: Hygienic hand disinfection also eliminates foreign germs, but only reduces the skin's natural flora.
This article will focus only on hygienic hand disinfection.
For hygienic hand disinfection, apply the sanitizer to dry hands. As a general rule, 3ml should be sufficient. It is important that you have enough sanitizer to cover both hands. If you want to disinfect your forearms or other areas of skin as well, you will need more sanitizer. First rub the palms of your hands together. Next it's the backs of your hands. Place your right hand over the back of your left hand and vice versa. That just leaves your fingers, in particular your thumbs and fingertips. The whole thing should take 30 seconds. To show you exactly how to disinfect your hands properly, we have put together a small infographic for you: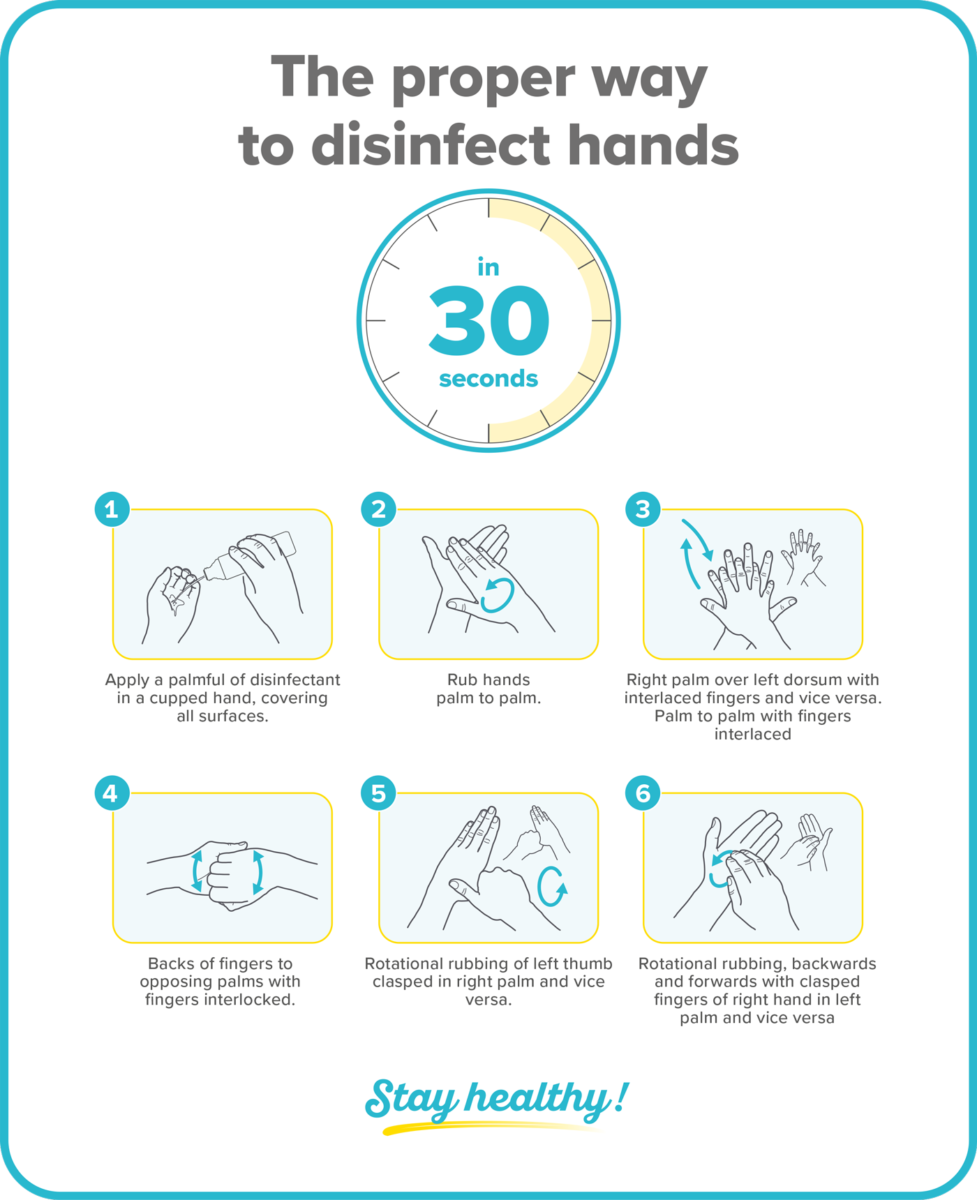 pjur DESINFECT
Here at pjur, we are aware of our responsibility too –  and that's why we've developed a hand and skin sanitizer for you. Our pjur DESINFECT is alcohol-free, unperfumed and contains no microplastics. It provides fast, safe, hygienic cleaning.  It does not dry out your skin and is skin-friendly, pH-neutral, and vegan. Made in Germany, it has been registered in accordance with the German ordinance on biocide notification and enables hygienic cleaning when soap and water are not available. Here are a few more details about some of the product properties for you:
pH-neutral: Our skin has an average pH value of 5.5. This is an acidic value, which makes sense because it protects our skin from environmental influences. The pH of soap, for example, is 9 or more, which can have a lasting negative effect on our skin's protective acid mantle. Our pjur DESINFECT sanitizer has a pH of 7. This is the same as the pH of water and is completely neutral. So if you use our sanitizer, it won't affect your skin's protective acid mantle.
Alcohol-free: Many of the products that we use on our hands and skin contain alcohol. Generally speaking, this is not very beneficial because alcohol can dry out our skin and damage the skin barrier. Using products containing alcohol too frequently can also lead to faster development of wrinkles and skin aging. In addition, our hands can become rough and cracked, making them more susceptible to bacteria and viruses, which can lead to inflammation and infection. That's why our pjur DESINFECT deliberately contains no alcohol.
No microplastics: The abundance of plastics is something that affects not just our environment but us humans too. According to a study by the University of Newcastle in Australia, we ingest around five grams of microplastics from a wide range of products and from the air. It is not yet clear precisely how and whether we are able to process this plastic, but all our products are now produced without microplastics.
Vegan: Like many of our other products, pjur DESINFECT does not contain any ingredients derived from animals.

Disinfection is more important now than ever before. We hope we have been able to give you a little more information on this topic. Stay safe!