The problem
blisters & chafing
Everyone knows the problems of sports or leisure time: sometimes the activity load is simply stronger than our skin. The result are open wounds, blisters and pain.

The solution
stop blisters before they start!
Put an end to friction and chafing – say goodbye to blister plasters
Durable, invisible protective film
Ultra long lasting, does not block the pores
Breathable, water & sweat resistant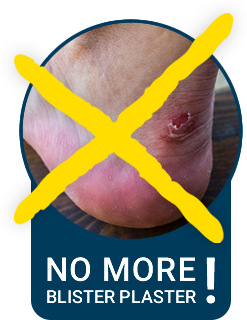 Problems with blisters and chafing?
It's a common complaint for runners, triathletes and all other sports enthusiasts: Just as you get into your stride, you start to feel chafing either from skin rubbing on skin or clothing rubbing on skin. The longer you run, ride or hike, the worse it gets – leaving you with blisters and open wounds that stop you achieving your goals.
2SKIN can help you reach your goals! Simply apply a thin layer to the areas of skin you want to protect before you start your training session or activity. It immediately forms an invisible, breathable and extra-strong protective film that is resistant to water and sweat and lasts an extremely long time.
Achieve your goals! Without any pain!
The protective film prevents any friction on your skin. 2SKIN eliminates any risk of chafing, whether it's from clothing, shoes or your own skin – making open wounds and blister plasters a thing of the past.
Outstanding skin compatibility and quality are at the heart of everything we do. This is our promise to you!
Can I apply pjuractive 2SKIN to all areas of skin?
2SKIN can be used on all areas of skin. After all, depending on physical activity and the sensitivity of the skin, every individual can suffer chafing and blistering on different parts of the body.
Is 2SKIN more effective if applied repeatedly?
The protective film and the performance of 2SKIN can be reinforced by applying it several times, according to individual needs and requirements.
Does pjuractive 2SKIN leave behind marks?
2SKIN does not normally leave any marks on clothing. But if this does happen, the marks can be removed using a normal detergent.
How do I remove 2SKIN again after use?
Generally, there is no need to wash off 2SKIN. However, if you do need to remove it, this can easily be done using soap or shampoo.
Is 2SKIN water-resistant?
Yes, 2SKIN works in water and is not washed away.
How does 2SKIN work?
Applying the gel integrates the upper skin layer, forming a non pore blocking lubricating and protective film. This strengthens the cellular structure of the skin and distributes the pressure over a wider surface area. As a result, it prevents chafing and blistering.
Learn how to prevent chafing and blistering from running. Look where to apply pjuractive 2SKIN ANTI-CHAFING GEL before sports in the 2SKIN video tutorials. Get even more useful tips! Visit the pjuractive youtube channel.
"I got chafing either from skin rubbing on skin or clothing rubbing on skin during a long distance training or competition. In the past, I will apply a thick layer of Vaseline on my skin, however it feels no good. I have changed to pjuractive these 2 years. It's long lasting even with single application. And it is very convenient to carry the 20ml out."
"I got chafing on the nipple or neck at training and competition, especially under the humid weather. So I will apply pjuractive 2SKIN to relevant area before training or competition. It's silky but not sticky. It is resistant to sweat, it can last around 6 hours with single application. And it is very convenient to carry the 20ml out and apply again when necessary."
"I have tried different anti-chafing products, pjuractive 2SKIN is the best brand I trust. No matter half marathon, full marathon or 50km, 100km and 100 miles trail running, I will definitely apply 2SKIN on the relevant area. Unlike other oil-based anti-chafing gel, pjuractive is not sticky and ultra long lasting especially for the humid weather in Hong Kong. For those marathon and trail running lovers, it worths trying it."
"As Race Director it is delightful to have racers ask for pjuractive 2SKIN at the checkpoint or from my 1st aiders. I believe i made the right choice choosing this brand as my anti-blister gift to the racers!"