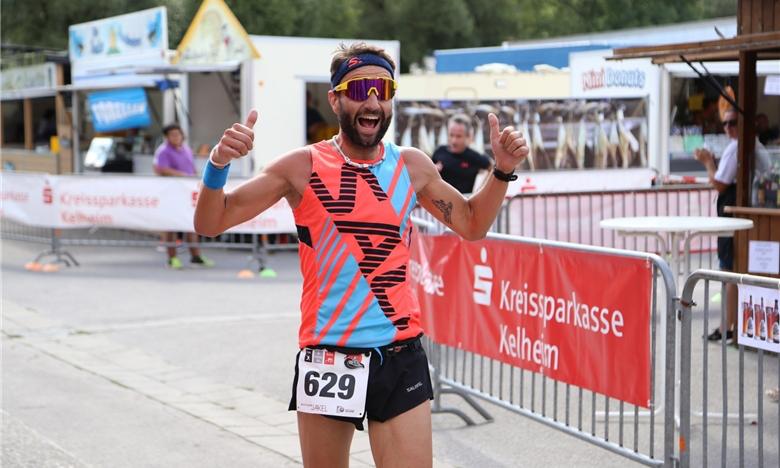 In addition to running a marathon in a suit, this athlete has notched up a lot of other sporting achievements. The most important thing for him is to enjoy running. Alongside his day job as a teacher, he regularly trains for new races. For him, it's the perfect way to relieve the stress of day-to-day life. We are talking about our testimonial Felix Mayerhöfer. We wanted to find out more about him, so we asked a few questions…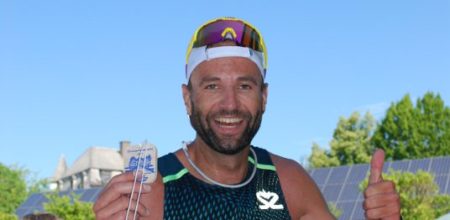 My name is: Felix Mayerhöfer
I was born on: 17 August 1981 in Regensburg
I come from: Parsberg
I weigh 66 – 70 kg depending on how much training I'm doing
I am 186 cm
I got into running…
I come from a very active family. My dad was a sports teacher, and so I started trying out all kinds of sports when I was a child. Back then, I didn't see what was so great about jogging. I found running around on my own boring, which is why I went down the classic route of football. It wasn't until ten years ago that a friend and I decided to take part in a marathon. We followed a twelve-week training plan and completed our first marathon in Hamburg. I've been mad about running ever since. I was forced to give up football due to a knee injury and I've been focusing exclusively on running ever since. Although I do take part in Ironman competitions every now and then, you know, to balance things out 😉
I wouldn't be able to train if I didn't enjoy running. It's a way for me to offset the stress that comes with being a teacher. I could never become a professional athlete, for example. That would make training an obligation. Suddenly I would "have to" train to deliver the performance levels needed to earn a living. So it is – and will always be – just a hobby that I am passionate about.
My favourite food before a competition is pizza with prosciutto ham and mushrooms with a mixed salad.
My favourite food after a competition is a burger. Although, I don't usually eat until 3-4 hours after a race as I'm just not hungry until then. What I do need straight after, however, is an ice-cold cola. I already start looking forward to that while I'm still running.
The most beautiful running route for me is actually the running track. I run my laps there, just me on my own, without any distractions. It may sound monotonous and boring, but it has an almost meditative quality for me. The best marathon route in my opinion is Hamburg.
The song that really gets me moving… I don't really have one. I don't usually wear headphones when I run. I just enjoy the silence. Although I have recently started to listen to audio books. I can just switch off and run as if I'm in a trance.
My biggest success: The 2015 Berlin Marathon. I ran my fastest marathon there in a time of 02:30:39.
My training tip: Running should always be about fun and enjoying exercise in the fresh air!
What I do to motivate myself: I set myself goals and then try to achieve them. At the moment, I'm training for the Rotterdam Marathon in spring 2020. I'm aiming to beat my personal best time for a marathon there.
pjuractive 2SKIN helps me train because it enables me to fully focus on the way I move and develop a good running style without anything rubbing or pinching. Anyone that has suffered from chafing knows how unpleasant it is and how it can impact your running.
What I really find great about 2SKIN is that it remains fully effective even on longer sessions. That's how I was able to finish my first 100-kilometre run in Biel without any wounds or chafing.
I use 2SKIN in particular on the following parts of my body: Under the armpits and between the thighs. Also around my neck during triathlons to prevent my wetsuit from chafing.
My sporting achievements thus far have been: Winning my local marathon in Regensburg in 2017 and 2018 and the 2017 Hamburg Marathon, of course, where I set the Guinness record for running a marathon in a suit.
My sporting goals for this year are: Finishing the Berlin and Frankfurt marathons in a good time and then starting my training for the Rotterdam Marathon next year, where I hope to break the 02:30 barrier.
pjuractive wishes Felix every success in achieving his goals.
Do you know our brand ambassador Frank Bauknecht?
You might also be interested in