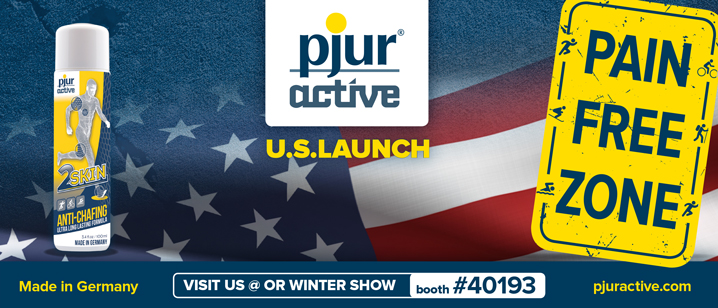 Wasserbillig/Luxembourg, JANUARY 2016. pjuractive 2SKIN, the new gel for protection from blisters and chafing, is to be launched on January 7 at the Outdoor Retailer Show in Utah in the USA! At stand 40193, retailers, wholesalers, journalists and any others attending the trade fair will be able to try out the new product and really put it to the test.
What's so special about pjuractive 2SKIN? Unlike standard creams and sticks, pjuractive is breathable! It is also dermatologically tested, free from skin softening emulsifiers and is water and sweat resistant. The three-time world record holder Dave Alley has already tested the product over a long period of time. He ran around Australia! 14,000 kilometers – two marathons every day: "pjuractive is simply unbelievable! I basically ran 327 marathons in 175 days under the most difficult conditions and I don't have a single chafed spot! I would never have thought that was possible! It makes pjuractive impossible to beat", said Dave Alley.
pjuractive 2SKIN is applied to the thighs, feet, forearms or nipples before a training session or competition. It instantly creates an invisible protective layer that strengthens the cell structure of your skin and distributes pressure over a larger area.
The gel has already won four awards from Women's and Men's Running Magazine as "Best Innovation" and in the "Injury Prevention Product" category.
You can find more information at www.pjuractive.com.