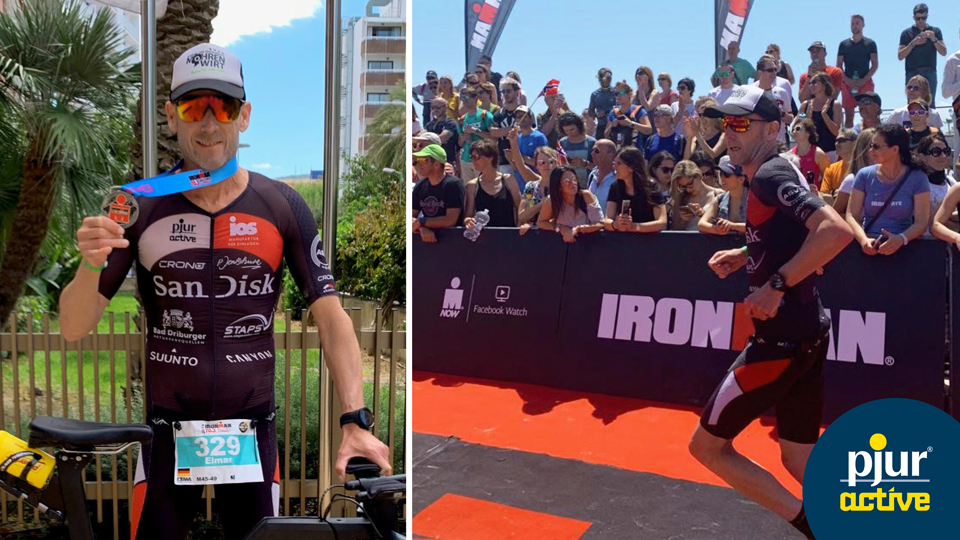 Wasserbillig/Luxembourg, May 2019. Elmar Sprink will continue to be part of the pjuractive brand ambassador team in 2019. The triathlete and IRONMAN finisher has represented the brand and the product pjuractive 2SKIN in particular for the past few years.
Elmar Sprink explains, "I am really looking forward to being able to continue my collaboration with pjuractive. Without 2SKIN, I would keep suffering from chafing. My chest strap used to always chafe my upper body where I have lots of scars from the numerous operations I have had. Thanks to 2SKIN, I don't have to worry about that anymore and I can take on new challenges."
"We are delighted we can continue to support Elmar. His story is inspiring and we are really proud that he can do his training without having pain afterwards thanks to our product. We look forward to our continued collaboration," says Vanessa Melchisedech, PR & Communications Coordinator at pjuractive.
Last weekend, Elmar Sprink competed in Ironman 70.3 in Majorca and was able to finish the competition with a time of 5:07; 33 minutes of swimming, 2:46 of cycling and 1:38 of running to the finish line. He was thrilled and satisfied with his achievement at his third Ironman event this year. This weekend he will be taking part in the BIKE Festival in Willingen, Germany.
About Elmar Sprink
Elmar Sprink is the fittest person with a heart transplant in the world. After he received a donor heart on June 9, 2012, he became the first person who has had a heart transplant to finish the Ironman race in Hawaii in 2014. He regularly takes part in triathlons and supports the issue of organ donations. You can also read about what motivates him and how he structures his training on our blog: https://pjuractive.com/en/blog/elmar-sprink-the-fittest-heart-transplantee-in-the-world/
A new addition to the pjuractive brand ambassador team
Additionally, pjuractive is adding a new member to its brand ambassador team: Julian Erhardt. The triathlete from Chiemsee, Germany is part of the Grassau triathlon team and preferably takes part in the Olympic distance with no slipstreaming approval and the middle distance. He is currently training at Lake Chiemsee in the Bavarian Alps. Just like Elmar Sprink, he will also be a brand ambassador for the pjuractive brand; he is using pjuractive 2SKIN while training and will recommend it to other athletes.
Press contact:
pjur group Luxembourg S.A.
Vanessa Melchisedech
PR & Communications Coordinator
+352 74 89 89 – 49
vanessa@pjuractive.com