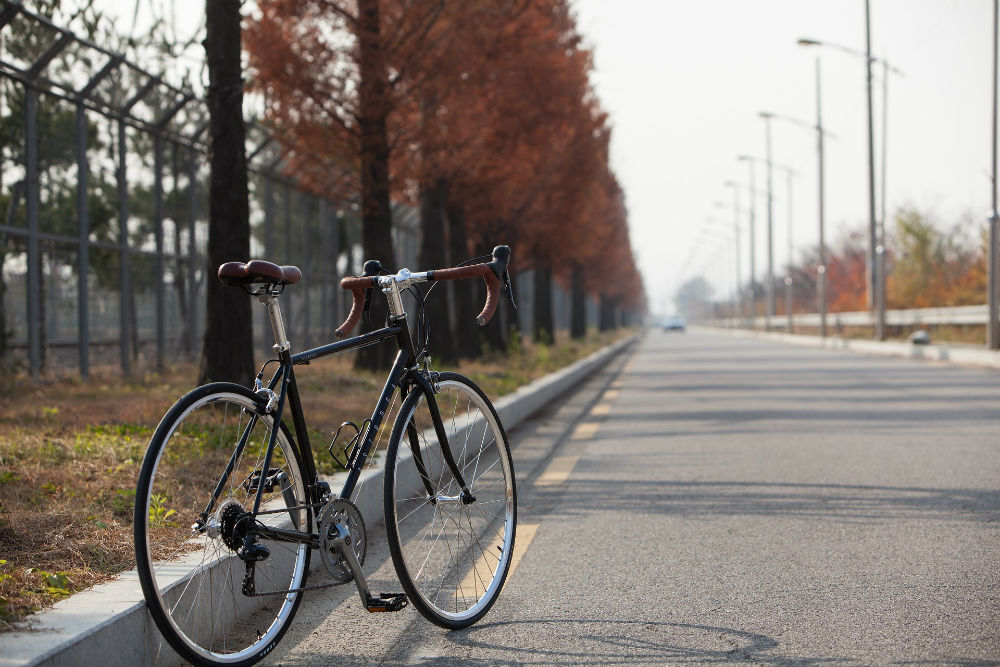 Anyone who makes the decision to buy a racing bike will be planning to spend a fair bit on time on it. Despite being far from cheap, a racing bike is ultimately the best option for rides that last several hours and for targeted training. Yet unfortunately, making the decision to buy a racing bike usually isn't the end of it. On the contrary, because lots of questions then present themselves, whether they're questions about the frame, the saddle or the wheel rims. pjuractive is here to help you navigate buying a racing bike – and we know what to look out for!
Important aspects when buying a racing bike
The frame
When it comes to the frame, there is always the same fundamental question – aluminum or carbon? The price will usually dictate which frame you should opt for here. If you don't want to spend more than €2000 on your racing bike, you should go for an aluminum frame. That's because, in this price bracket, you'll get better features on racing bikes with an aluminum frame. Aluminum models will simply be superior to carbon models in this price range. But if you're prepared to spend a bit more, then a carbon frame can definitely be a good choice. They are lightweight and sturdy with effective vibration damping, making them very popular.
The frame size
With the frame size, there are many factors involved in deciding what you should buy. The most popular frame size for racing bikes is 57 cm. You can choose between a small frame (less than 52 cm), a large frame (over 60 cm) and the normal frame, which is somewhere in between. The small frames are particularly sporty and are more suitable for shorter people. Tall people will need to go for a large frame. Your body proportions are crucial when it comes to choosing the frame size, specifically your inside leg and height. The website ebicycles has developed an online calculator for this.
The fork
With the fork, too, the question is aluminum or carbon. If you have an expensive carbon bike, the fork is usually also made completely of carbon. However, that too is expensive – just like the frame. Alternatively, there are forks available with carbon fork blades and an aluminum steerer tube, which makes them a little heavier but also reduces the risk of being distorted. This is because 100% carbon forks are very sensitive and are susceptible to dents and deformations.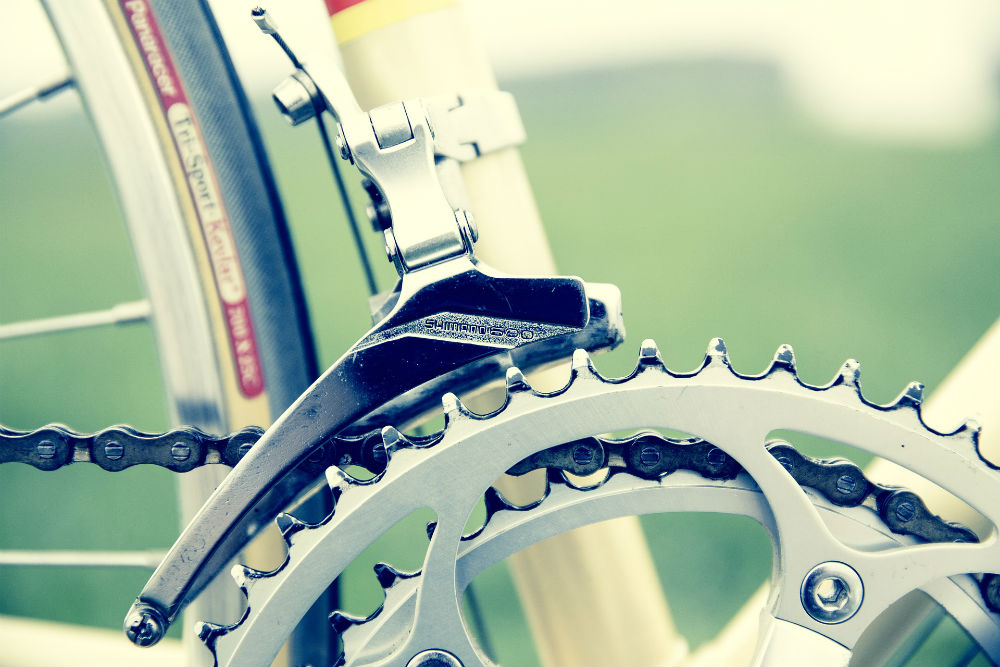 The groupset
When it comes to the gears, there are three different makes to choose from – Shimano, Sram and Campagnolo. Shimano is the market leader in this area. The three makes differ in terms of their ergonomics and the way the brake levers and gear levers work. Two chainrings and eleven sprocket wheels are standard. What make you choose is really just a matter of personal preference. Your best bet is to try them out and see what feels best.
These days, the three companies also make electronic gear-shifting systems, allowing you to change gears at the touch of a button rather than by turning a lever. This is still quite a pricey option, but it's definitely worth considering.
The wheels
The wheels are an area that really deserves special attention. They come with 20 mm, 30 mm or 40 mm rims. The 20 mm rims are light, are not susceptible to side winds, and make accelerating easy. With 30 mm rims, on the other hand, you will find they are a little heavier so they're not quite so good on acceleration, but they have better rolling characteristics compared with the 20 mm rims. What's more, the bigger rims are also more stable, which is why they're a better choice for slightly heavier riders in particular. If you opt for an even wider 40 mm rim, you will be able to maintain a high speed but acceleration will be limited, and rims of this size are also more susceptible to side winds. And once again, with the rims too you have the choice of aluminum or carbon. Aluminum rims are standard and dependable. Carbon rims are designed to save weight, but they also have inferior braking performance on wet roads.
The tires
When it comes to tires, points to look out for are rolling resistance, puncture protection and comfort. Your best bet is to go for 23 mm tires. If you opt for slightly larger 25 mm tires you'll be guaranteed a more comfortable ride, for example, but the rolling resistance will be lower and they'll add more weight. Although not so important when buying your racing bike, generally speaking it's always important to make sure your tires are at the right pressure. The table below shows which tire pressures must be used when:
Tire pressure
Rider's weight in pounds
23 mm tires
25 mm tires
< 110
6.0 bar
5.5 bar
132
6.5 bar
6.0 bar
154
7.0 bar
6.5 bar
176
7.5 bar
7.0 bar
198
8.0 bar
7.5 bar
> 220
8.5 bar
8.0 bar
The handlebars
Handlebars also come in both aluminum and carbon – and here too, the choice primarily comes down to weight and of course price. Racing bikes costing upwards of €2500 usually have carbon handlebars, which are lighter and better at absorbing vibrations. Models available for less than this price usually have aluminum handlebars. When buying a racing bike, however, it's important to make sure the handlebars actually fit your own hands. A wide top bar is good for the palms of your hands and relieves the pressure on them. Your handlebars should feel right and not be uncomfortable, particularly when you're riding in the drops. It's also important to have thick handlebar tape with a good grip, as this can increase your comfort and safety.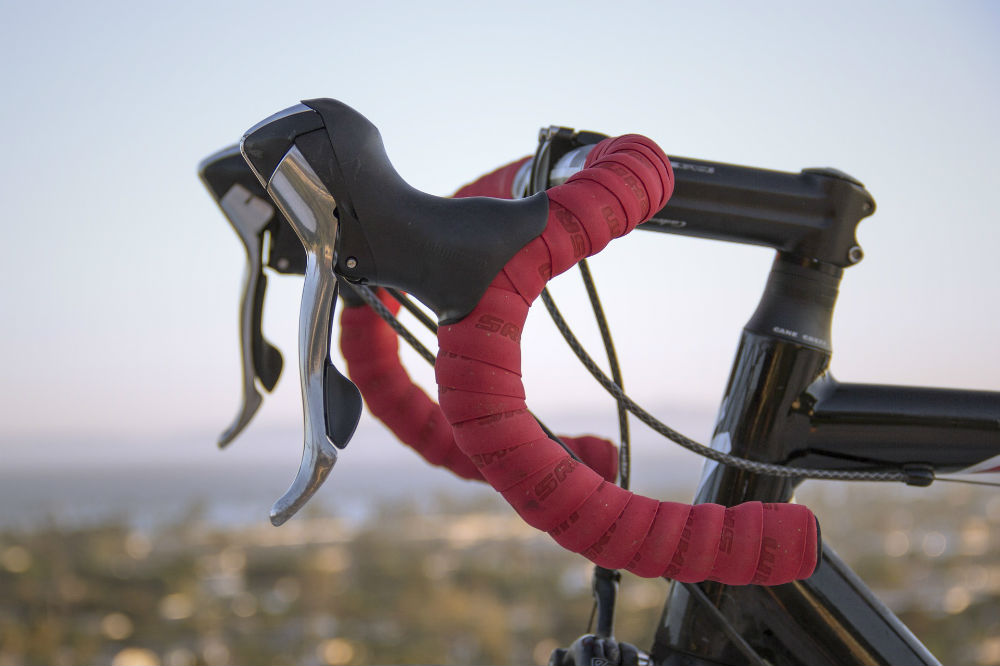 The saddle
What saddle you choose essentially just comes down to personal preference. Some people don't mind narrow saddles, whereas others find they leave them sore after a bike ride. These days saddles come in a huge range of different models with various widths, so it's a matter of trying them out to see which saddle suits you best. Our article on finding the right saddle deals with this topic in more detail.
The seatpost
The seatpost isn't something you initially think of when you're contemplating buying a racing bike. Yet it plays an important role in the cushioning comfort. According to experts, a carbon seatpost with a 25 mm layback will give you the best cushioning comfort.
The price
One of the most important aspects when buying a racing bike is probably the price. And as we've already hinted at, there are significant differences here. Aluminum frames are considerably cheaper than carbon frames, and if you're after specific features you can expect to pay more on top. The decision to buy a racing bike can therefore be a costly one. It is also possible to buy used racing bikes, however.
Buying a used racing bike – a good idea?
First things first: Anyone who wants to save a bit of money can get themselves a used racing bike. However, if you do go that route there are a few things you need to watch out for even more carefully. First, make sure the seller is legitimate so you don't end up with something from China or even stolen goods. Is it a particularly good bargain? Is the seller in a far-off land? And does the seller already have any reviews? These are all things to be on the look-out for when it comes to finding the right seller. Second, you should always ask for the relevant supporting documents as well. The original sales receipt for the bike is a must, as well as certificates for any servicing work carried out. However, the most helpful way of assessing the bike is always to take it on a test ride. Only then will you be able to make sure the bike is a good fit for you and doesn't have any faults. Just like buying a used car, it can be a good idea to take an expert along with you when buying a used racing bike too.
Choosing the right racing bike isn't easy. But if you follow our tips, you can soon be spending hours on bike rides with your new racing bike. Have fun!