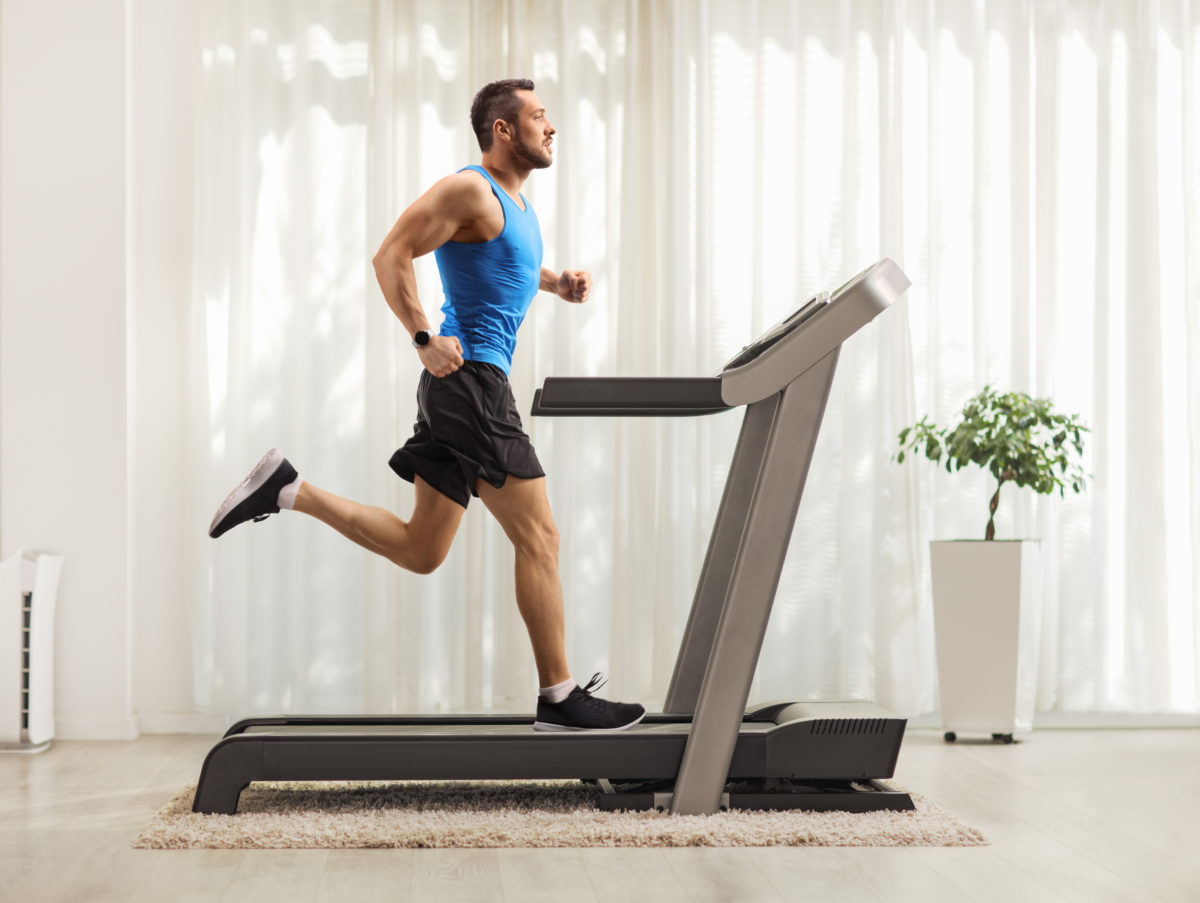 The impact of the current COVID situation on fitness training can be extremely frustrating. Not just because sports events and races have been cancelled left, right and center, but because there seems to be no end in sight right now. Yet it's still important to stay on the ball and keep active, because even if we can't train in groups as much anymore, we should still be able to achieve our training goals, whether we're indoors or out. Sport and exercise not only helps improve our mental strength, but it also boosts our immune system. We've taken a look at how virtual runs, correct breathing and resilience can help us now.
Virtual runs – the new home running workout
Training for a half marathon at home? That's right – if you have a treadmill, there are now virtual running workouts that you and others can sign up for. As well as virtual training sessions, you can also find websites where you can run a marathon. The route and goals are set online and you can either run alone on your treadmill or link up with other runners to reach your goal as a group. And it's not just marathons – there are all kinds of races taking place virtually now, such as 300 km runs, charity runs, women's runs and much more.
If virtual running workouts aren't an option for you, you can still train outside alone, as long as the weather plays ball 😊 and we can keep our distance.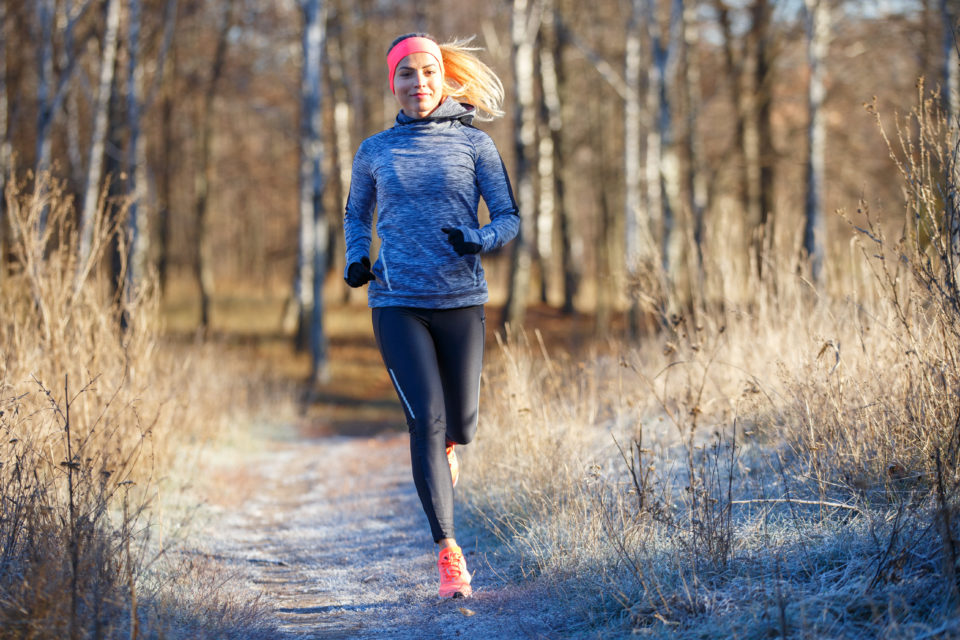 The right breathing technique
If you get out of breath quickly when you run, you're either running too fast or your breathing technique needs work. The right breathing will not only enhance your running performance, but it will also boost the effects of your training and make you more relaxed.
Get plenty of oxygen into your body with these 4 tips and use relaxation to avoid getting stitch
Use your full lung capacity and keep your body supplied with oxygen
There is a very close link between lung capacity and running performance. The deeper you breathe in through your nose and mouth, the more likely it is that you will be breathing deep into your stomach. This is the only way to use your full lung volume, giving your body the best possible supply of oxygen.
Avoid shallow chest breathing
Shallow breathing is a real fitness killer. It is often accompanied by panting and is one of the reasons you may suffer from a painful stitch when you are running. The poor oxygen supply puts a strain on your diaphragm, which results in an uncomfortable tugging sensation.
Strengthen your core muscles and keep an eye on how much you eat
A pulling sensation or tightness in the diaphragm can also be caused by weak core muscles or an overly full stomach. Regular workouts for your back and abdominal muscles will help. It is also a good idea just to eat something light before each run. Ideally, you should avoid eating anything for two or three hours beforehand.
Avoid big temperature changes for your lungs
Be especially aware of your breathing when it's cold outside. If you breathe in properly through your nose, the air has further to travel and get warmer. Very cold air can damage your lungs and put your body under pressure. This not only significantly reduces your running performance, but it also increases the risk of illness.
So it really helps to get your breathing technique right if you want to exercise properly and efficiently.
But what about breathing with a face mask on? We decided to look at this in a little more detail:
Even though it's vital to wear a face mask, it can still be a nuisance in many situations. In amateur sport, it was still considered "weird" to wear a mask just two years ago. However, the voices advocating mask-wearing have been growing louder since the start of the year.
The benefits of wearing a mask to exercise can be summarized as follows:
| | |
| --- | --- |
| It improves your breathing | Your breathing improves steadily as you become more aware of it. The risk of getting a stitch is reduced. |
| It burns more calories | Thanks to the reduced oxygen intake, your heart rate increases and with it the intensity of the workout. You expend more calories. |
| It pushes us to our limits | The lower oxygen levels mimic sports conditions at high altitudes, which improves lung capacity. This in turn improves performance, endurance and fitness. |
| Post-exercise recovery is faster | Performance levels increase, as does your lactate threshold. This translates into fewer aches and pains, meaning we can push ourselves harder. |
Share your achievements
Have you set yourself challenges in your day-to-day life and already achieved your goals? Then start showing off your achievements too. 😊 Fitness apps are a great way to document and share your successes, helping you to stay motivated with online fitness challenges and virtual workouts, even if you can't "line up" alongside other runners at the start line.
Whether it's a digital workout, a virtual run or an outdoor workout, tracking your exercise doesn't just help you keep track of your progress. It also keeps you motivated by sharing your progress with others.
Here are a few of the most popular workout apps:
Nike Run Club app
Fitbit app
Garmin Connect™ app
Google Fit app / Apple Health app
Runkeeper app
Komoot app
adidas Runtastic app
Staying psychologically fit in lockdown – building resilience
In addition to physical exercise, we also need to try to stay mentally fit, because the restrictions and limits on social contact can have a psychological impact on us all. Alongside the options discussed above for staying active and motivated, we also need to look after our mental health. It's important to establish routines and find ways of compensating for any hobbies that have fallen victim to the coronavirus pandemic. Digital workouts, online challenges and virtual fitness sessions can become part of your routines and replace cancelled classes, so we can still retain some form of "normalcy" despite the change in circumstances.
So now we have seen that there are lots of options for staying fit and healthy – not just physically but mentally too.
So keep planning your exercise routines and go find the right digital workout, the next challenge, or a virtual run. Meet up virtually, stay in touch with people, and run to support charitable organizations. It's not just good for your fitness levels but for your mental strength too. 😊 And don't forget to make sure you keep blisters and chafing at bay – even when you're training virtually at home! That way you can complete your challenges and you won't have to interrupt your workouts because of the pain caused by chafing!