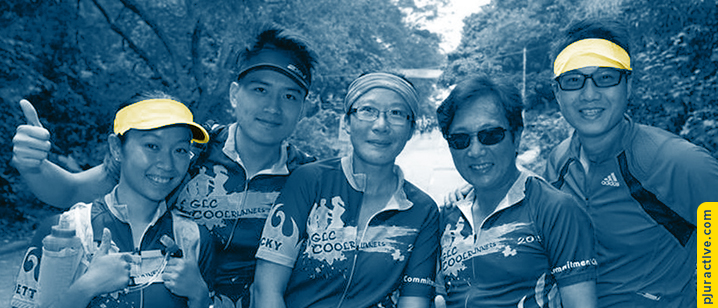 [av_dropcap1]W[/av_dropcap1]asserbillig/Luxembourg, DECEMBER 2015. The Oxfam Trailwalker is one of the most famous charity runs in the world. The 100 kilometer event currently takes place in 10 different countries, and the course must be completed within a maximum of 48 hours. The funds raised are used to help men, women and children in the poorest regions of Africa and Asia.
pjuractive was at the Oxfam Trailwalker in Hong Kong supporting two teams with their run. It was the first time that the eight friends had run such a long race. "I am so happy", said Canetti Chung, when she arrived at the finish line with her teammates after 34 hours and 36 minutes. "100 kilometers is no easy task and there are plenty of moments when you don't think you're going to be able to complete it. But that just makes me even happier to have really done it, I don't have a single chafing spot on my body!" Her teammate Chris is just as overwhelmed: "This race is harder than we ever could have thought. It would hardly have been possible to finish in that time without pjuractive. No blisters after 100 kilometers is just crazy!"
Since 1986, more than 73,000 runners have taken part in the Oxfam Trailwalker in Hong Kong alone, raising over 365 million Hong Kong dollars (approximately 43 million euros) in donations.
About pjuractive
pjuractive 2SKIN is a new gel for protection from chafing and blistering. Immediately after it is applied, pjuractive 2SKIN forms an invisible protective film on the skin. This film reinforces the cell structure and distributes the high pressure over a larger area. This means increased protection from chafing, blisters and unpleasant skin irritations. Unlike conventional petroleum-based creams or Vaseline, your skin can still breathe! pjuractive 2SKIN has been dermatologically tested, is free of skin weakening emulsifiers and is water and sweat resistant.