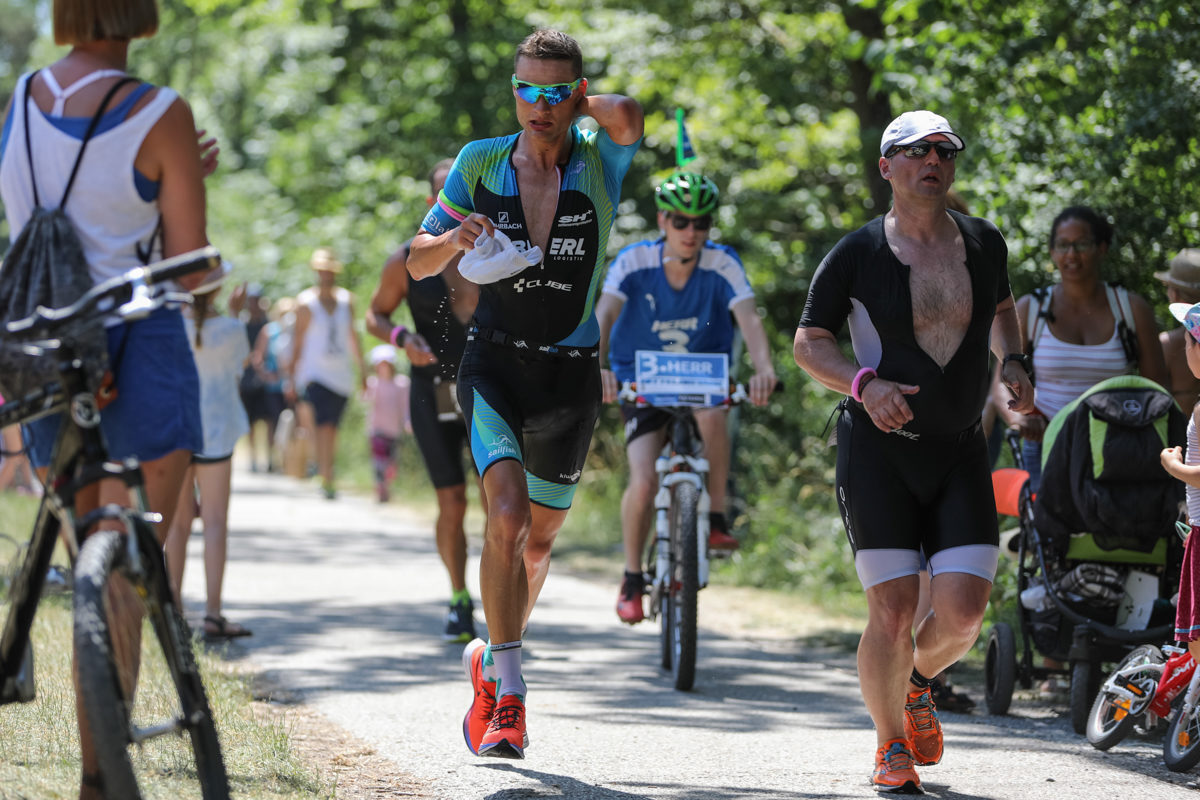 This year, pjuractive's new brand ambassador Julian Erhardt is taking part in the eighth EBERL Chiemsee Triathlon. On Sunday, 30 June 2019, he will take to the starting line for the middle distance event (2 km swim – 80 km bike ride – 20 km run). We talked to him before the race to ask about his special relationship with this event and to find out more about his preparations.
Why is the EBERL Chiemsee Triathlon so special for you?
A home advantage for the local Bavarian set against a magnificent backdrop
Julian Erhardt: I've been asked this question a lot recently. First of all, it really is a local race for me. A ten-minute drive is all it takes for me to get to the competition HQ. Secondly, the atmosphere in the morning and evening is totally unique with the mountain views in the background. I only realized just how beautiful the route – and subsequently my home region – is once I left home for a longer period of time for my studies. Before then, I just took it for granted. Now, I really enjoy jumping on my "city bike" and being able to cycle just one kilometre for a swim in Lake Chiemsee. There are also plenty of biking and running routes. It's a privilege for me to be able to train in the Chiemgau region under professional conditions.
Fans make the competition a unique experience for the local matador
Julian Erhardt: The spectators and helpers are another factor that make the Chiemsee Triathlon such a special event for me. I get cheered on by spectators shouting my name more at the Chiemsee Triathlon than at almost any other event. I guess more people in the region know about me now than I thought 😉 Last but not least, there are people on the route without whom I simply couldn't compete as a professional athlete: My family and my regional sponsors. I'd like to thank you all for your tireless support and help. And for the fact that you never stop believing in me!

PREPARATIONS FOR THE CHIEMSEE TRIATHLON 2019 
At last year's Chiemsee Triathlon, Julian was disqualified after having worked his way into a very promising position. So this year, he is really keen to do better. He trained extremely hard over the winter to achieve this goal and has pushed himself to new limits. The 2019 season got off to a good start for him and his performance in middle distance events in particular is on a different level than in recent years.
Over the past two weeks, Julian has completed another noteworthy period of training. After a host of sessions in Lake Chiemsee, he feels much more comfortable in the water than he did at the start of the season. He has completed a number of really good, long sessions with different intensities on his bike and has also seen his form in actual competitions improve from one race to the next. Running is often the discipline that makes or breaks a race, and this year he has become extremely consistent here and wants to up his speed further by competing in the first division of Germany's national triathlon league in Dusseldorf.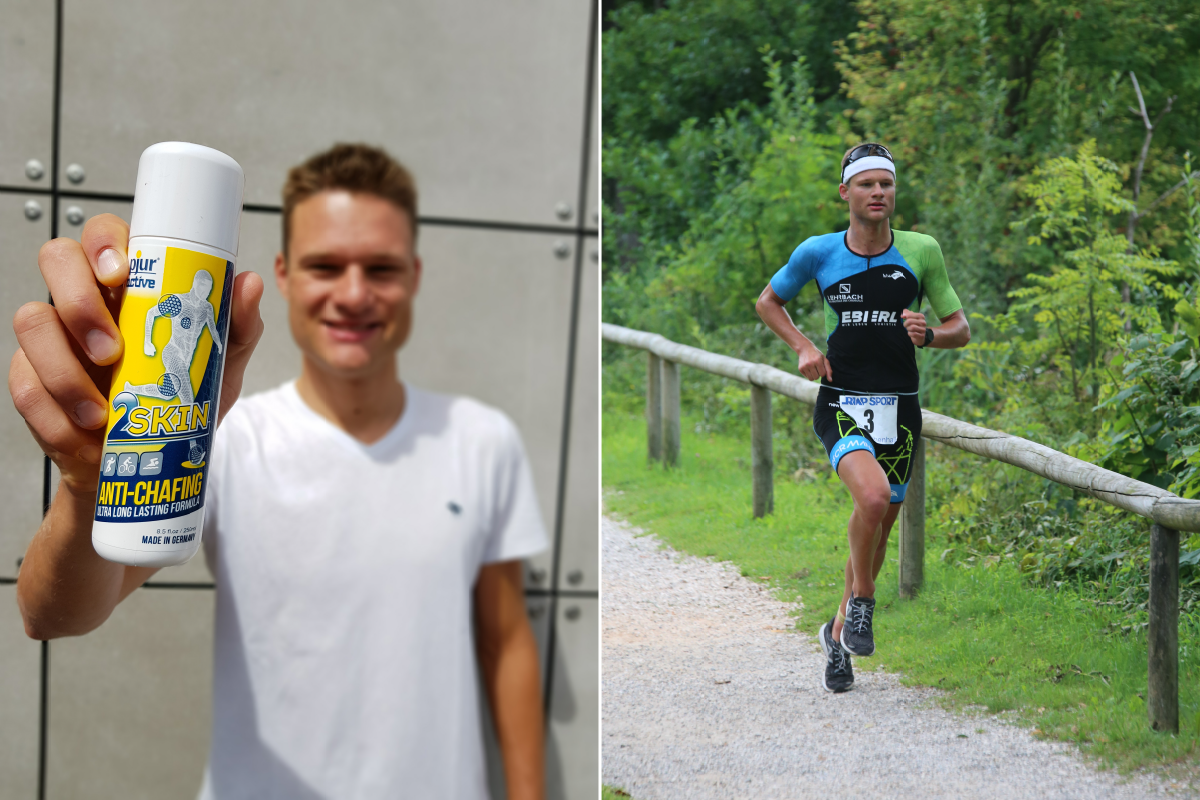 Julian also wants to make the most of his home advantage. In this year alone, he has completed the biking route around fifteen times and has also finished a few hard running sessions along the competition route. As such, he knows the route inside and out and is well prepared for the pitfalls of the competition.
Physical and mental recovery are key priorities in the days running up to the race to ensure he can give 100 percent on competition day. One of the special luxuries of competing on your home turf is that you can sleep in your own bed before the big day.
We'll be keeping our fingers crossed for Julian and will report back with the results next week!
Close to the action – competition day
On Sunday, June 30, 2019, Julian took part in the middle distance triathlon in his home region. Here he talks about his experiences and, of course, his results:
The race started with a two-kilometre swim in Lake Chiemsee without a wetsuit. After a pretty hectic start, it became increasingly easier for me to find my rhythm. By the time I got to transition area, I was in seventh place and part of a small group that was only around 40 seconds behind the leader. Once again, every aspect of the transition went smoothly. Once I was on my bike, I felt great and was ready to catch up. I did great job here and after five kilometres I had already worked my way up to third position, with Michi Raelert only around 50 metres ahead of me. I didn't allow myself to get carried away and throttled my initial high speed a bit in response to the temperature, which was already high. Until around the 50-kilometre mark, I was in a three-man group, which included the subsequent winner Thomas Steger. He was able to pull away from us on a slightly longer hill climb. I started to get cramps in my adductors ten kilometres from the finish of the bike route, meaning I was able to finish the ride without too much difficulty, but I didn't yet know how this handicap would affect my run. The second transition wasn't perfect, but I still started the run in third position. Once again, I made a cautious start to make sure I didn't succumb to the heat later on in the race. Members of my family provided me with ice cubes and large bottles of water to keep cool. I simply tried to chip away at the distance one kilometre at a time in a controlled, consistent way, and this strategy worked well. It was only around three kilometres from the finish when I started to get cramp in my calves and the back of my thighs, which steadily got worse. I kept taking quick breaks to try and "stretch out" the cramp. At some point, however, both legs cramped so badly at the same time that I couldn't do anything and fell to the floor. I tried quickly stretching my legs again to get myself moving, but it didn't help. I kept trying to stand up but as soon as I started to put the slightest amount of weight on either of my legs, my muscles cramped. Somehow, however, I managed to get back on my feet – mainly by using my arms. I started running again, although you couldn't really call it running, it was more of a limp. I kept pushing myself one metre at a time and somehow managed to keep hold of my lead, crossing the line in third position. Markus Liebelt came in after me a mere seventeen seconds later.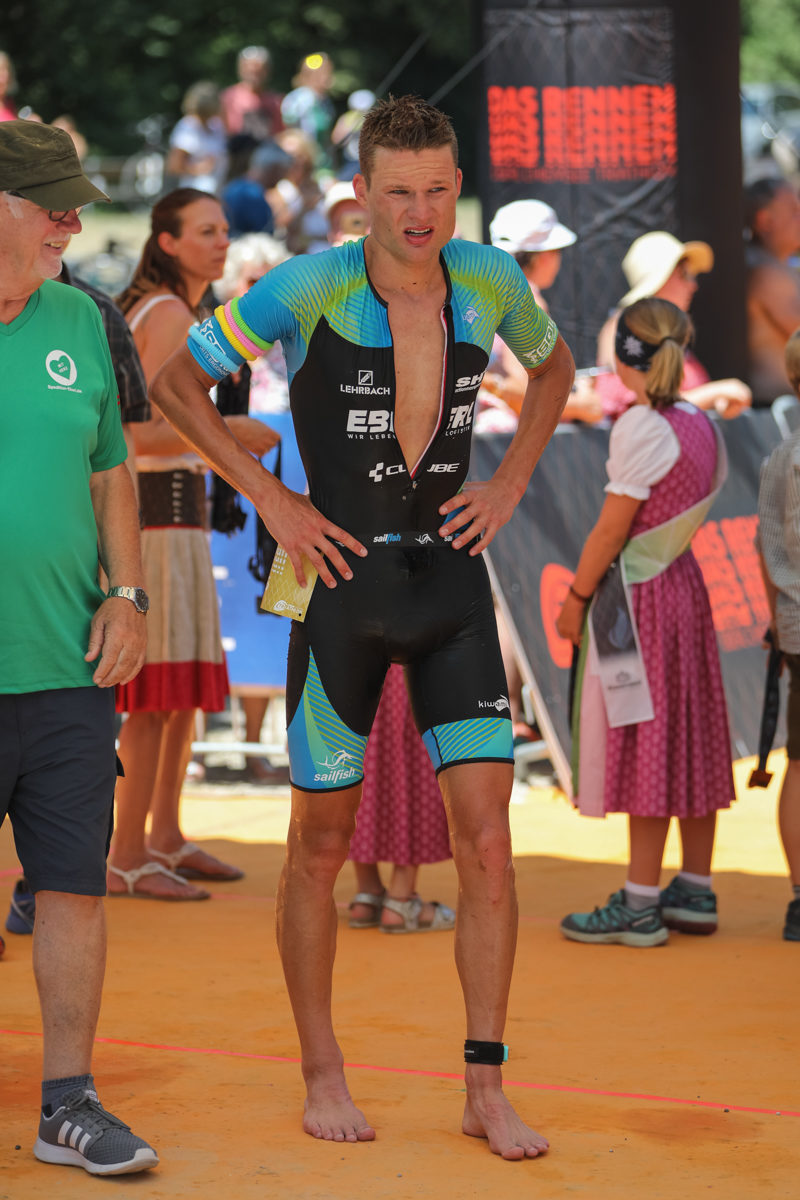 So I was able to battle to third position in my local event, beaten only by Thomas Steger and Michi Raelert. I'm very happy and satisfied to be able to share the podium with these two athletes.
I gave absolutely everything at temperatures of 36-38°C. I was at my limit at the finish line and very dehydrated. My heart wouldn't stop pounding and I started to shake. I kept feeling woozy and realised that something was wrong. Luckily, there were lots of people at the finish line who took great care of me. After two infusions I was more or less back to my old self and was able to celebrate with many of my friends and family and put the perfect finish on the day. Thank you to everyone at the finish line who took such great care of me! I'd also like to say a big thank to the many helpers and locals who did a fantastic job supplying us with water and other essentials. Thank you also to the event organisers and the communities in the region who manage to put on such an amazing event on my doorstep year after year!
In three weeks, I'll be starting the second half of the season with the third race in the BASF Rhine-Neckar Triathlon Cup in Ladenburg. I'm already really happy with the first half.
You can find out more about Julian Erhardt here: https://pjuractive.com/au/blog/julian-erhardt-ambitious-triathlon-talent/