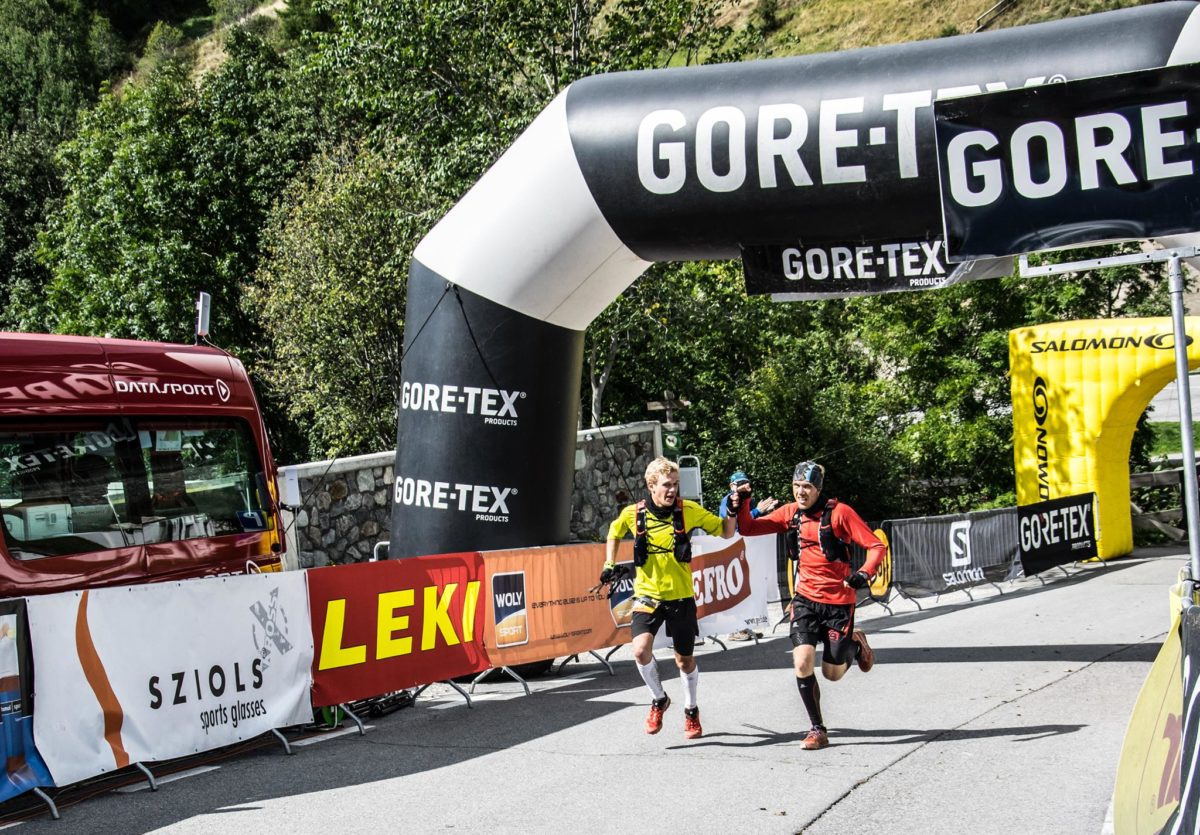 8 days – four countries – two runners – one dream.
Team Salomon Germany – Starting number 8 – Marcus & Matthias Baur
---
First things first: our results:
| | | |
| --- | --- | --- |
| 1st Stage: Oberstdorf/D – Lech/A | 34.6 km/+2083 hm/-1469 hm | Laufzeit 4:33h – 7th Place Men – 16th Place Overall |
| 2nd Stage: Lech/A – St. Anton am Arlberg/A | 24.7 km/+1899 hm/-2042 hm | Laufzeit 3:32 – 5th Place Men – 9th Place Overall |
| 3rd Stage: St. Anton am Arlberg/A Landeck/A | 39.9 km/+2019 hm/-2494 hm | Laufzeit 4:50h – 6th Place Men – 10th Place Overall |
| 4th Stage: Landeck/A Samnaun/CH | 45.7 km/+2861 hm/-1842 hm | Laufzeit 5:52h – 6th Place Men – 12th Place Overall |
| 5th Stage: Samnaun/CH – Bergsprint | 6.3 km/+731 hm/-60 hm | Laufzeit total for both runners 1:36h – 3rd Place Men – 4th Place Overall |
| 6th Stage: Samnaun/CH – Bergsprint | 37.1 km/+2064 hm/-2690 hm | Laufzeit 4:31h – 6th Place Men – 13th Place Overall |
| 7th Stage: Scoul/CH – St. Valentin/I | 37.8 km/+1633 hm/-1376 hm | Laufzeit 3:45h – 3rd Place Men – 3rd Place Overall |
| 8th Stage: St. Valentin/I – Sulden/I | Alternative route due to snowfall: 40 km / 1500 hm | Laufzeit 3:57h – 5th Place Men – 7th Place Overall |
| Final Ranking | | Total Laufzeit 31:52h – 5th Place Men – 7th Place Overall |
During the first stage, things didn't go so well for Marcus. The heat hit him very hard, so we were behind a little at the very beginning of the Transalpine Run.
During the second stage, the errors from the first stage fortunately were not repeated. It was very hot again, temperatures were about 30°C, but we were sufficiently hydrated this time and Marcus discovered that watermelon with salt was his new favourite food at the refreshment stations. The trails were a dream. There are no more beautiful routes in the Alps than these. You climb a slope for hours, you are at the edge of your ability to perform and then you catch sight of a mountain panorama that immediately makes up for all of the exertion. That's trail running! Regarding muscles, things went relatively well for both of us. Our thigh muscles pinched now and again, and the odd tendon made itself noticed. But over the entire eight days, nothing ever hindered or limited us physically.
The 2SKIN gel from pjuractive definitely contributed towards this. From the first day, 2SKIN was an integral part of our morning preparations. Due to the heat, we ran in sleeveless singlets for the first three days. If you are wearing singlets and a rucksack, small wounds can quickly develop in the shoulder and chest area, because over a long period of time, the rucksack chafes and rubs against the skin due to the movement generated by running. That is why we always rub generous amounts of 2SKIN onto ourselves in the morning. And it was really great. It certainly lives up to its name. Just like a second layer of skin, 2SKIN prevented any wounds there. You really don't notice anything. The sweat problem is also nothing to worry about. You hear again and again that wearing creams and gels means that the skin underneath can no longer sweat and the body overheats as a result. But that wasn't a problem – and we really rubbed a lot of it onto a large area.
From the second day we also began to use it on our feet, especially in the toe area. We didn't have any blisters, but some spots were very strained because of the shoes. During the evening, each of us always made sure we had a 20ml pump bottle ready to rub on ourselves in the morning before running.
We used 2SKIN in the Achilles heel area, because we realised that it meant there was absolutely no rubbing between the foot and the heel of the shoe. It is a real dream that even after running 20 or 30 kilometres, you can be sure that your shoes will not suddenly start to rub or chafe. We mostly used 2SKIN in the toe area though. As there were many very long downhill sections during the stages, a heavy burden was placed on the toes. While running down the mountain, they constantly hit against the inner lining of the shoe or rubbed very hard against it. That is why we also rubbed our toes thoroughly with 2SKIN during our morning preparations. The gel is very durable and you notice that if you take off your socks and shoes again at the finish line, there is always a visible remnant of the gel. We found it very good to apply. Often, little blisters form between the toes on long runs. With 2SKIN we didn't have any problems with this over the entire eight days.
Another spot where we used it was on areas of rough skin (calluses etc.). For Marcus it is often the case that these areas become very painful during running, and it is really uncomfortable to run while in pain. That's why he also used 2SKIN on these areas. Because of the lubricating film created, the strain was reduced and he was able to run pain-free.
Fact – we are totally impressed! You don't notice the 2SKIN gel working, but it's really effective. In most cases, it isn't the big injuries that cause runners to give up during a race like this, or during any kind of long distances. It is much more often the small, inconspicuous wounds. Here, 2SKIN helps like a second skin. The lubricating formula reduces the pressure and the stress on the affected spots and delivers exactly what it promises. Rubbed or chafed spots caused by socks or shoes are simply no longer a possibility. This product completely won us both over during the eight days of the Transalpine Run and we look forward to hitting the trails with it in the future. Blisters are just a thing of the past for us now.
Marcus always had a little bottle of it during every stage as part of his basic equipment in his rucksack. Safe is safe 🙂
Usage: each of us had three 20ml bottles for the Transalpine Run. However, the gel goes a very long way and large amounts are not needed. For daily, generous use, we both used just under four bottles altogether, i.e. 70ml between the two of us.
Many thanks to pjuractive for putting together this great package for us at such short notice. We are extremely grateful for your support and look forward to our continued cooperation in the future.
Warm regards,
Marcus & Matthias Baur