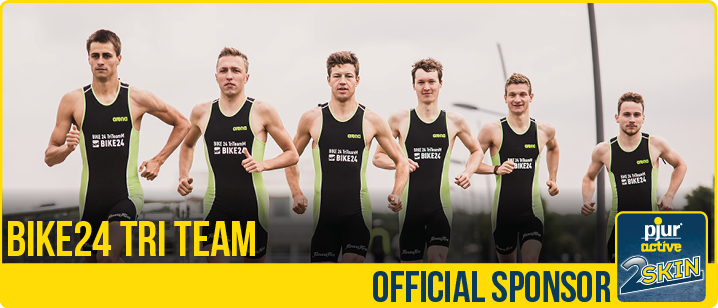 Wasserbillig/Luxembourg, APRIL 2016. pjuractive 2SKIN has been presented as a new partner at the presentation of BIKE24 TriTeamMitteldeutschland in Dresden last Saturday. The German Bundesliga triathlon team will be supplied by pjuractive 2SKIN, the new gel to prevent chafing and blisters, and is supported by the brand from now on. Team manager Ronny Winkler is excited about the new cooperation: "2SKIN is a great benefit to triathletes in particular and is an innovative brand. We are delighted that our national league team can benefit from it."
pjuractive is also happy with the partnership: "With the BIKE24 TriTeam, we support a considerable number of triathletes with our product," says Elisabeth Dahmen, Global PR Coordinator at pjuractive. "These days, professional athletes often suffer with sores during triathlons – be it from the wetsuit, the cycling shorts or the running shoes. That's why we are really pleased to offer athletes a unique solution with pjuractive 2SKIN."
pjuractive 2SKIN is now also available for every athlete on www.bike24.com!
About the BIKE24TriteamMitteldeutschland:
The BIKE24 TriTeamMitteldeutschland has been around since 2011; in 2013 they succeeded in reaching the top triathlon national league. The team consists of athletes from central Germany, with long-distance ace Christian Kramer, 70.3 25-29 age group European Champion John Heiland and paratriathlon European and World Champion Martin Schulz among the key team members.
About pjuractive 2SKIN:
Immediately after application to thighs, underarms, nipples or other affected areas, pjuractive 2SKIN forms an invisible protective film on the skin. The cell structure is strengthened and the pressure on the skin is spread out over a larger area. This increases protection against chafing, blistering and other unpleasant skin irritations. And unlike conventional creams and sticks, your skin remains breathable! 2SKIN has been dermatologically tested, is free from skin-weakening emulsifiers and is water and sweat resistant.