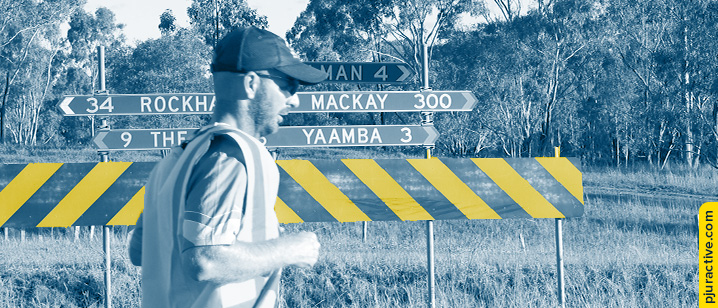 Wasserbillig/Luxembourg, MAY 2015. Dave Alley has successfully finished the first 1,000 kilometers of his incredible 14,000-kilometer race around Australia. After 13 days of solid running – almost 77 kilometers a day – he's reached the first milestone.
Dave is also benefiting from the support of pjuractive: "I'm delighted at how things went the first days. I ran through wind, heat and rain – all conditions in which chafing thrives – but thanks to pjuractive I managed the 1,000 kilometers without any problems. It's simply amazing", raved the police officer from New South Wales.
But Dave still has a long way ahead of him. He'll be on the road every day until October in his attempt to run around the entire circumference of Australia in record-breaking time. He can't even take a single day off, or he'll forfeit the record. Dave is running to raise awareness of depression and to raise funds for the White Cloud Foundation, a support group helping to deal with the problem.
"Of course we're pleased that our product is so effective. But, above all, we're incredibly proud of Dave and his project and of course we'll continue to support him every step of the way", says Alexander Giebel, CEO and founder of pjur group Luxembourg.
Watch Dave's video here:
About pjuractive
Immediately after application, pjuractive 2SKIN forms an invisible protective film on the skin of the thighs, forearms, feet or hands. The film reinforces the cell structure of the skin and distributes high pressure and strain over larger areas. This increases protection against chafing, blisters, or other uncomfortable skin irritations. And, unlike regular creams and sticks, it allows the skin to breathe. pjuractive 2SKIN is dermatologically tested, free from devitalizing skin emulsifiers, and is water and sweat resistant.
For further information on the race and donations to the White Cloud Foundation, go to www.racearoundaus.com.au.