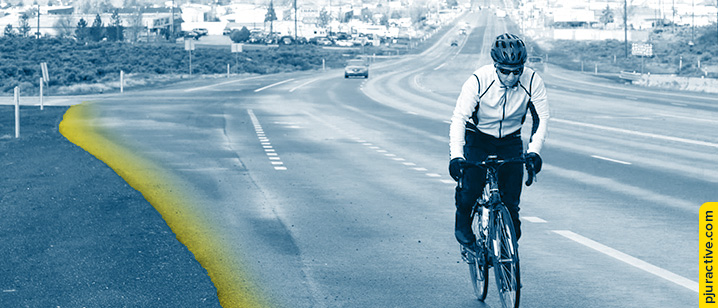 With support from pjuractive, Kyle Williams rode his bike all the way across the United States in memory of his friend who died.
Wasserbillig/Luxembourg, JULY 2015. In 2010, Kyle Williams lost one of his best friends: Joel Lawrence died of stomach cancer at the age of 19. Even as a young boy, Joel's great dream was to travel across the entire United States one day. To make that dream come true for his friend, Kyle Williams set out on 21 April 2015 to ride 6,500 kilometres from Los Angeles to New York on his bike. And he had a travelling companion: his friend's old teddy bear.
Kyle undertook his journey in memory of Joel, and to raise money for young people with incurable diseases: "Joel's parents always wished that the short time they had with their son could have been a bit easier, and that they hadn't needed to constantly worry about the high costs associated with his cancer," Kyle explains. "Had Joel been younger, they would have had many options for support and care, but at 19 that was all more difficult." That is why Kyle, who hails from England, launched his "Joel's Wish" campaign, which is raising funds to support young people aged 19 to 30 who are suffering from terminal cancer.
On his tour across the United States, Kyle received support from pjuractive, who provided the athlete with their 2SKIN product as protection against blisters and chafing. "pjuractive was an important part of my bike journey across the United States," said Kyle. "During the 40-day ride, I experienced all four seasons, and had to negotiate some steep climbs. I sweated a lot, and that leads to chafing. Thank goodness I had enough pjuractive, which stopped the chafing in its tracks. Before that, I used other products that were far less simple to use, and which didn't last as long as pjuractive. A thousand thanks for your support. I love your products and I recommend them to everyone who does a lot of sport," said the 24-year-old.
"At pjuractive, we're proud to have been able to support Kyle with his project and we'd like to encourage everyone to donate to people who have been diagnosed with a fatal disease, because by joining together we'll be able to accomplish a great deal," says Elisabeth Dahmen, PR Manager at pjuractive. Kyle has already raised £16,000 with his initiative. If you'd like to make a donation, go to https://www.justgiving.com/Joels-Wish-USA.