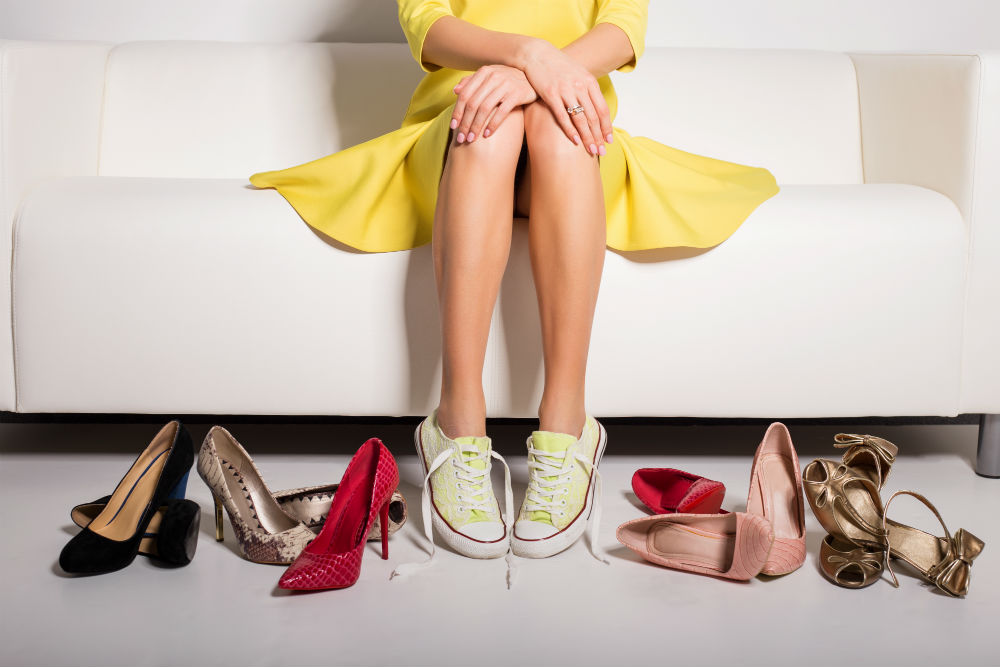 Women love their shoes and have plenty in their wardrobe, adding new pairs regularly. What is the best thing about them? Shoes will always fit, even when we've gained a few pounds. But what different types of shoes are there out there? We list the different types of shoes for you and take a look at which shoes are most likely to cause us problems with blisters and chafing.
Types of shoes and what makes them different
Pumps: Every woman has at least one pair of pumps in her cupboard. They are the classics of women's shoes and are very popular. Hardly surprising, since they can enhance any outfit in summer and winter alike. The features of this type of shoe are:
A heel less than four inches high.
Most styles have a so-called stiletto heel.
Pumps typically have a pointed toe.
Most pumps are just one color and don't feature any embellishments.
High heels: High heels are included in the pumps category. The difference with this kind of shoe is simply the height of the heel. High heels are higher. A shoe can only be called a high heel if the heel is at least four inches high. High heels also have a stiletto heel in fact, but there are also variations such as platform heels and wedges.
Peep-toes: Pumps and high heels also include a type of shoe called peep-toes. These shoes are open at the front, showing the toes.
Ballet flats: Ballet flats get their name from the fact that their design is based on shoes used for ballet. They have the following features:
Ballet flats have a flat sole and no heel.
Ballet flats have an enclosed toe and heel.
They have a wide opening, making them quick and easy to slip on.
Ballet flats usually have a bow or other decoration.
Traditional ballet flats have a so-called babydoll shape.
Sandals: That are many different types of shoe that can be described as sandals. These are defined as an "open shoe type". The name comes from the Greek and means "strapped shoe". Sandals consist of a sole, which is held on the foot with straps. Sandals do not have a heel and also come in various different styles for men.
Flip-flops: Flip-flops are a kind of sandal. To be precise, sandals with a toe-post. These days they come in a wide range of materials, but their defining feature is still their toe-post and diagonal strap fastening.
Slip-ons: The term "slip-ons" covers lots of different types of shoes. Slip-ons have just two fundamental features:
They are very easy to slip on.
The shaft only is no higher than mid-height.
Ankle boots: Also known as booties, ankle boots are somewhere between boots and pumps. Most ankle boots have a heel, but they don't have to have a heel to be described as ankle boots. The peculiar characteristic of this type of shoe is that the shaft height is lower than with boots and higher than with pumps.
Boots: Unlike ankle boots, boots have a high shaft. They can have a heel or no heel and they come in various different styles, such as over-the-knee boots, calf boots, and moon boots.
Sneakers: The term "sneakers" refers to all sports footwear that can be used both for sport and for everyday wear. They are available in a vast array of colors and designs and from different brands.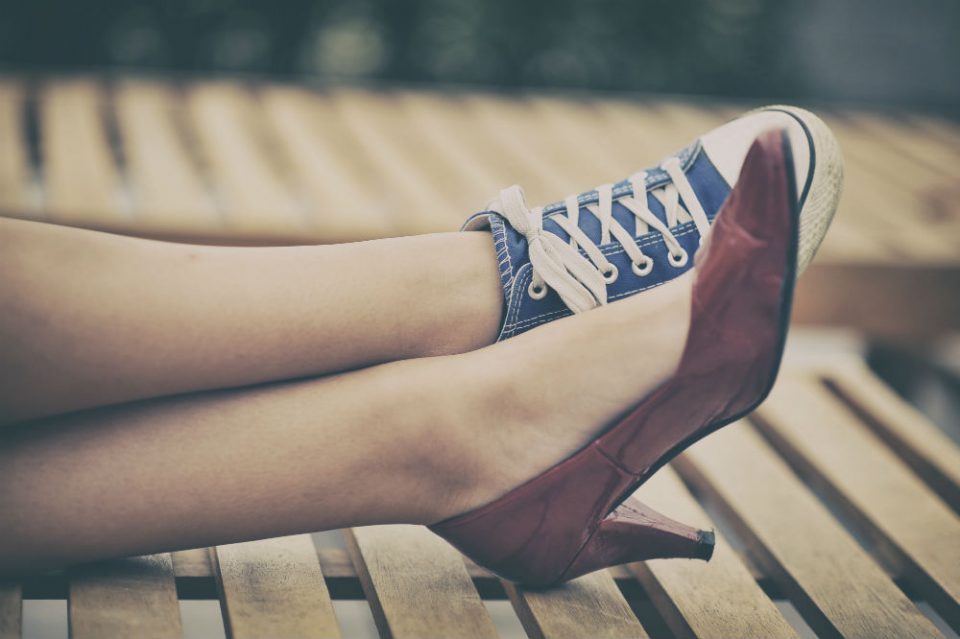 Types of shoes to watch out for
Generally speaking, new shoes that haven't been worn in yet are particularly likely to result in blisters and chafing. With new shoes, your feet often have to get used to the spots where they rub or where they are perhaps tighter than the shoes your feet have been used to before. It doesn't usually take long until they have been worn in and you can then walk well in them without getting blisters or chafing.
It's a different story with all the beautiful summer shoes that we like to wear so much. Be they ballet flats, flip-flops, sandals, high heels, pumps, peep-toes, slip-ons, or even some sneakers—wear them all day and they'll usually leave unsightly pressure marks and red, sore patches. Or worse still, blisters. Different parts of the foot are affected depending on the type of shoe:
Ballet flats – With ballet flats, it is typically the back of the heel that is affected or the top of the shoe.
Flip-flops – The classic problem with flip-flops is a blister between the toes.
Sandals – Since most types of sandals are made up of straps, there is a high potential for rubbing in various different places. On the heel, for example, or even on the top of the foot due to the straps constantly rubbing.
High heels – In high heels, the toes and the forefoot in particular take a real punishing thanks to the rubbing and pressure. After all, the entire body weight is supported on the forefoot. Depending on how narrow the high heels are, the heel can also be affected, too.
Pumps – The situation is similar with pumps. Although the heels are not quite so high, the forefoot still carries the majority of the weight. As a result, the forefoot in particular is susceptible to rubbing, along with the toes.
Peep-toes – The problem areas for peep-toes are similar to those for high heels and pumps. The toes are also affected with this type of shoes, as the opening at the front of the shoe also takes a toll on the toes.
Slip-ons – Slip-ons usually give women the same problems as ballet flats—on the back of the heel and on the top edge at the front of the shoe.
Sneakers – Sadly, you can even get blisters with sneakers sometimes, too. Sneakers usually cause too much rubbing on the back of the heel.
We love shoes, and that's how it should be too! We want to keep it that way, and that's why pjuractive has produced a secret weapon to fight chafing and blisters – 2SKIN. Try it for yourself!